Italian Bond Bulls, a Lonely Crew, Are Still Clinging Onto Hope
(Bloomberg) -- It may not seem like it at the moment, but Italian bond bulls may still have reasons to hold their ground.
The past week saw fear spread like fire through Italy's markets as they braced for populist politics, which may have caused investors to temporarily lose sight of the economy's progress since the euro-area debt crisis. The nation's securities remain investment-grade, offer some of the region's highest returns and have assured backstop from the biggest buyer of euro-zone bonds -- the European Central Bank.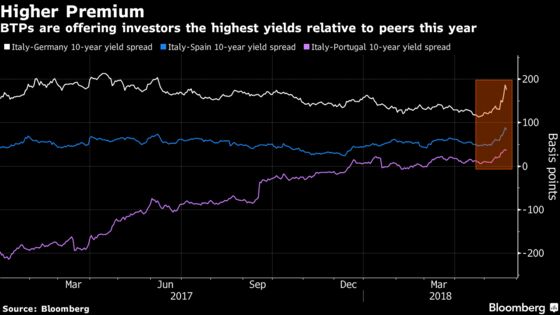 "Talk about Italy will shake, rattle and roll markets and present opportunity in coming weeks," Bill Blain, a strategist at Mint Partners in London, wrote in a research note. "Italian bonds look cheap because the ECB has to act."
Italian bonds rebounded Tuesday, with 10-year yields falling 6 basis points to 2.33 percent. That narrowed the spread over Germany by 10 basis points to 177.
Here are some factors that may help cheer up Italian bond bulls:
While a coalition between the two anti-establishment forces of the Five Star Movement and the League is dawning, they have watered down much of their anti-European Union rhetoric and Five Star has committed to staying within the the bloc's fiscal rules. Indeed, an increase in spending may even boost growth and help tighten spreads, rather than blow them out, according to Mizuho International Plc.
"Growth is the more significant determinant than the change in the deficit," Peter Chatwell, head of rates strategy at Mizuho, in a note to clients last week. "The market could reward fiscal spending, even with a multiplier some way below 1, with tighter spreads in the near term."
Even before the latest selloff, Italian bonds offered decent premiums over peripheral peers in Spain and Portugal, let alone Germany. But with 10-year yields rising more than 50 basis points this month to offer a spread of almost 180 basis points over Germany, the carry-trade opportunity may be too good for many to pass on.
There's one buyer that isn't going anywhere any time soon. The ECB currently holds around a quarter of Italian bonds, according to Commerzbank AG, with its total purchases relative to the so-called capital key second only to those of French securities.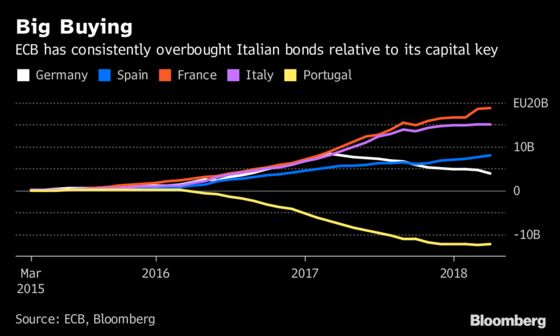 The share of Italian debt owned by foreigners -- seen as more likely to run for the trees when times are bad -- has dwindled. International holdings have dropped to around 25 percent of the outstanding total, the lowest in 20 years. Reduced foreign investment, along with the high proportion held by the ECB, could cushion the impact of risk-off episodes on the market, according to Citigroup Inc.
Italy has been struggling to fix a legacy crisis of soured loans that peaked at more than 360 billion euros ($425 billion) in 2015, holding back lending and its economic recovery. But in the last two years, banks have cleaned up balance sheets by writing down and disposing of bad debt as the ECB intensified pressure on lenders to shrink their non-performing loans. Banks are still weighed down by more than 270 billion euros of troubled assets -- more than twice the amount of their nearest euro-area peer -- but the picture is improving.
It might seem ironic, but Italy's outstanding debt at around 130 percent of gross domestic product in some ways adds to the appeal of its bonds. Its stock of securities is larger than Germany, providing traders with a deeply liquid market. The country also has an active futures market -- unlike Spain and Portugal -- allowing investors to easily enter and exit with low transaction costs. If things do take a turn for the worse, it is far easier to get out than in Greece, for example.
Italy's bonds extended losses Monday after Fitch Ratings warned that political risks could threaten the country's credit rating. Yet, the nation is still ranked investment-grade across the four big agencies, which means guaranteed inclusion in various sovereign bond indexes. Societe Generale SA is among banks that have said that, while any downgrades would pose a major risk for Italian debt, such rating action may still be months down the line.
Italy has around 34 billion euros of government debt maturing this month, with nearly two-thirds of that still to come. That could help provide support as investors reinvest the proceeds. While Italy has around 125 billion euros left in its issuance plans for the year, that will be more than offset by around 150 billion euros of money flowing back into money managers' pockets.