Too Soon to Go Long Treasuries on `Neutral' Comment, Saxo Says
(Bloomberg) -- Think twice before putting in a buy order for Treasuries based on Federal Reserve Chairman Jerome Powell's comments on Wednesday.
That's the takeaway for Eleanor Creagh, a market strategist at Saxo Capital Markets in Sydney, who says "outright positioning may be premature at this point."
On the surface, Powell suggested a big shift away from his comment early last month that the Fed was "a long way from neutral,'' by declaring on Wednesday that the central bank was now "just below" the neutral range for interest rates.
The reference to a range is what's crucial, according to Creagh.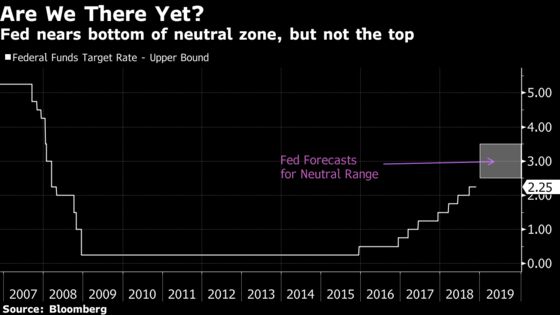 "Net-net this is marginally dovish -- but only that," she said in an emailed reply to questions. "With the estimation that the neutral rate lies between 2.5 percent and 3.5 percent, the bottom of the range is only one hike away -- therefore we are 'just below' -- but we are five hikes away from the top of the range -- 'a long way."'
Things will be clearer after the Fed's expected hike at the Dec. 18-19 meeting, she suggests. Saxo anticipates the Fed will then revise down its dot-plot projections for rates in 2019, as growth in the U.S. and most major economies slows.
"On that basis we look for Treasuries to become a buy and the dollar to reverse its course," she said. In the meantime, Saxo is looking at call options to position for a move lower in yields, she said.