It's Time for BOJ to Exit With New Fiscal Accord, Professor Says
(Bloomberg) -- The Bank of Japan should end its monetary stimulus -- but it risks sparking a financial crisis if it can't get the government to commit to putting its own finances in order first, according to a fiscal policy expert at one of the country's top universities.
Given its massive debt, financial markets need assurances that the government is serious about restoring fiscal health before the BOJ begins tightening policy, Keio University economics professor Keiichiro Kobayashi said in an interview Wednesday.
Otherwise, investors worried about the value of government bonds may panic as the BOJ unwinds stimulus, sending yields spiking out of control, Kobayashi said. "Japan's debt management policy and the BOJ's exit strategy are interlinked," he said.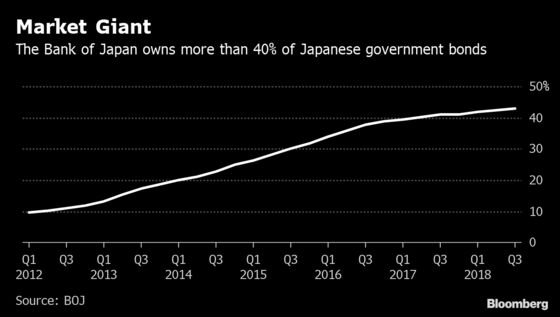 Kobayashi said the BOJ should convince the government to sign a new accord similar to one made in January 2013, just prior to Governor Haruhiko Kuroda taking over at the central bank. That accord stated that the BOJ would do its utmost to generate 2 percent inflation, while the government would undertake fiscal consolidation and increase potential growth.
Six years later, the BOJ owns more than 40 percent of outstanding Japanese government bonds and yields have plumbed new lows. Inflation is under 1 percent.
Many economists blame BOJ policy for loosening fiscal discipline. Extremely low rates cut the government's debt costs and mask any warning signals from the market, Kobayashi said. Prime Minister Shinzo Abe's two delays in raising the nation's sales tax demonstrate the government's lack of urgency, he said.
The sales tax is now set to rise in October, but the government's goals of reaching a positive primary balance -- or a budget surplus, excluding debt-servicing costs -- continues to recede. Under a base-case scenario, it won't happen until at least fiscal 2028, the Cabinet Office estimated last month. The government previously aimed to reach it by 2020.