Inflation Creep Is Real, Morgan Stanley Says
(Bloomberg) -- Inflation that's been elusive for almost a decade is starting to materially crop up in the U.S., Euro area and Japan -- signaling that the long-delayed healing from the financial crisis is boosting price growth, at last.
Core inflation in the so-called G-3 economies has risen to a 1.4 percent annual pace from a post-crisis low of 1.1 percent, and is bound to float higher, according to a research note by Chetan Ahya, Morgan Stanley's chief economist and global head of economics. The Euro area and Japan should see a more "pronounced uptick" than the U.S., he said.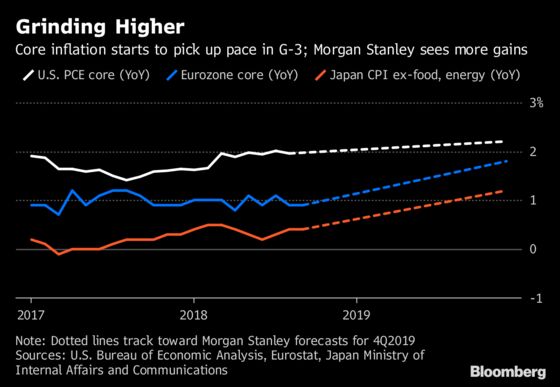 One reason for the change in outlook: workers finally seeing fatter paychecks thanks to dwindling pools of jobless. A government-led campaign in Japan for higher wages looks to be seeping through to inflation readings, with Bank of Japan Governor Haruhiko Kuroda last week taking a more bullish stance on price growth just before data showed prices gaining ground.
"The strength in wage growth supports increasing confidence in the inflation outlook," Ahya wrote. "This has shifted the trade-offs for the central banks, and also means that the bar for changing course on tightening is higher than earlier in the cycle."
The other factor behind faster inflation is the macroeconomic backdrop, in Ahya's view. The world is a lot different from the 2012 to 2016 period when deleveraging, a risk-averse private sector and sub-par aggregate demand meant a weak appetite for capital expenditures, thus skewing price growth to the downside.
Since 2017, all three of those factors turned around with the global economy churning again -- finally pushing private investment higher and bringing even stubborn sectors such as healthcare and telecom services into the inflationary fold, Ahya wrote.
Morgan Stanley sees growth in the big-three economies moving faster than capacity can typically keep up, meaning more inflation in the pipeline. There is a real risk that central bankers will be surprised by how quickly inflation returns, Ahya wrote.
"Low inflation expectations no longer hold down inflation, and actually may boost the economy if policy makers respond by keeping policy looser than warranted, which then drives inflation up," he wrote, noting that inflation risks are skewed to the upside, especially in the U.S.