It's Best to Know English When Interpreting ECB Policy Statement
(Bloomberg) -- If you want to be absolutely sure of what the European Central Bank is thinking, it pays to know English.
For the last six weeks, analysts have been puzzling over the meaning of alterations to the French and German versions of the ECB's June statement. That prompted the institution to add a disclaimer to Thursday's announcement making it clear that the exact wording agreed by the Governing Council should "be taken from the English version."
German: "Der Wortlaut, auf den sich der EZB-Rat verständigt hat, ist der englischen Originalfassung zu entnehmen."
French: "Veuillez consulter la version anglaise pour les termes exacts approuvés par le Conseil des gouverneurs."
After the ECB said in June that borrowing costs would remain at their present levels "at least through the summer of 2019," analysts have been speculating over the timing of the institution's first interest-rate hike following the end of net asset purchases. That wording in other languages was officially revised after the June 14 meeting, and seemed to give mixed messages about the possible time frame.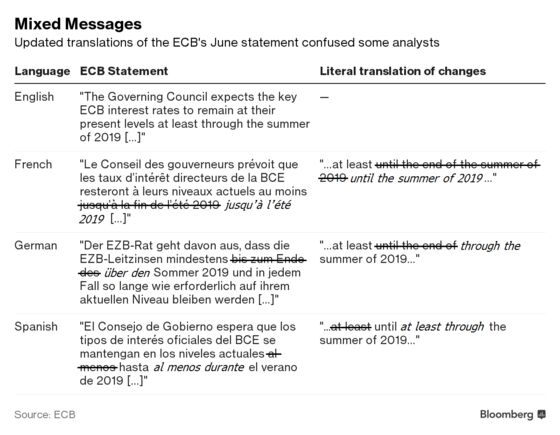 ECB President Mario Draghi took the same line when quizzed on the translations during his press conference.
"We conduct our Governing Council in English and agree on an English text so that's what we have to look at," he said. "The only version that conveys the policy message is the English version."