It May Take More Pound Volatility to Force U.K. Brexit Agreement
(Bloomberg) -- While the pound has slumped almost 2 percent in just three days, it may take more market drama to mount pressure on U.K. politicians to agree on a Brexit plan, according to Royal Bank of Canada.
Sterling slid as much as 1.1 percent Monday amid media reports suggesting that the U.K. prime minister's plan for leaving the European Union is increasingly unlikely to make it through Parliament. A group of pro-Brexit Conservative Party lawmakers and Northern Ireland's Democratic Unionist Party, which supports May's government, joined forces to publish an article in the Sunday Telegraph saying they are prepared to vote down the premier's proposals.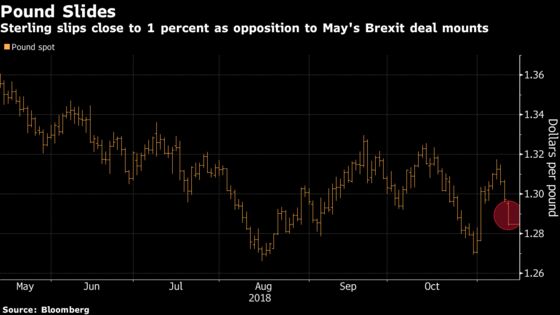 "The chances of the cabinet signing off on a Brexit deal this Tuesday look slim," Elsa Lignos, global head of currency strategy at Royal Bank of Canada, wrote in a research note. "It feels like market pressure will have to get worse before there is a compromise."
Earlier this month, sterling had rallied amid mounting optimism that a divorce deal with the EU was imminent. Yet, May is now being pressured by her own colleagues and other lawmakers to drop her plan or face defeat when it goes to a vote in Parliament. The opposition Labour party suggested Sunday that it may not back the proposals and her pro-EU transport minister resigned Friday.
The pound was 0.7 percent weaker at $1.2888 as of 3:45 p.m. in London, after falling as low as $1.2828 earlier.