Israeli Vaccine Sprint Vital to Scandal-Dogged Netanyahu's Fate
(Bloomberg) -- Israel's high-velocity sprint in the global coronavirus vaccine race has become the defining issue in Prime Minister Benjamin Netanyahu's campaign to retain his grip on power -- and possibly stay out of jail.
Israel has been fast out of the blocks with its early vaccinations, affording efficacy and safety data for drug developers and a blueprint for other governments. So fast, in fact, that it's running out of supply and scrambling to move up shipment dates.
Keeping the vaccine drive on schedule is crucial for the prime minister, who's eager to spur the economy in time for the March 23 election, the fourth in two years. The immunization campaign has become the centerpiece of his election strategy, a counter to the more negative news expected out of his corruption trial, which moves into high gear in February.
The narrative is "first in the world and first to get out of the Covid pandemic and first to revive the economy," said Srulik Einhorn, strategic consultant for Netanyahu's re-election push.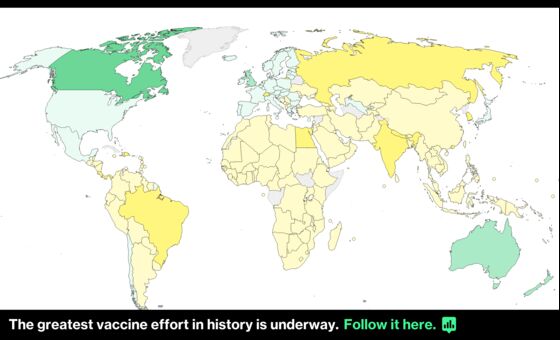 With a population of just 9.3 million, centralized government and universal health care, Israel says it has already vaccinated about 15% of the country since Dec. 20. That would be far ahead of second-place Bahrain, which has reported 4%, and the U.S. and U.K., trailing at less than 2%.
Such numbers could position the country as a critical provider of real-time mass data on immunizations developed at record speed. Israel says its digitized health-care system and extensive records offer drugmakers a chance to monitor how new vaccines perform on a broad scale, answering questions about vaccine safety and effectiveness over a longer time frame, and with much a larger patient population than during the clinical trials that preceded usage approvals.
Supply bottlenecks became an unwanted byproduct of Israel's vaccine drive, and Health Minister Yuli Edelstein said Monday that first doses are expected to grind to a temporary halt next week. The country is running out of the only vaccine it has, supplied by Pfizer and BioNTech SE -- though on Tuesday, Moderna Inc. announced it would begin first deliveries of 6 million doses sometime this month.
Israel expects to immunize 70% to 80% of its citizens by April or May. It isn't vaccinating the millions of Palestinians living under its control.
Netanyahu has been crowing about Israel's self-reported front-running status, because good news on the economic front is something he desperately needs.
After winning plaudits for a rapid and effective virus response in the first part of the year, Israel became a cautionary tale for how not to reopen. Cases and deaths swelled, and the economy, like others, tanked. Unemployment is 13% and rising, and the country is in a soon-to-be-tightened third national lockdown.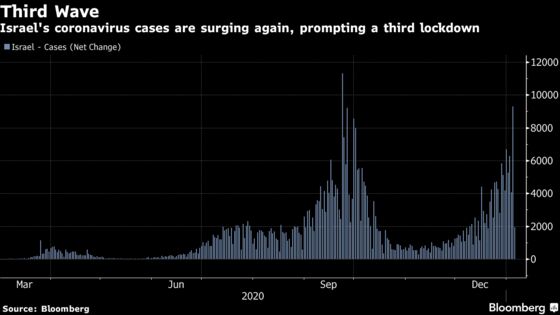 The government's reports of a world-leading vaccination campaign have bolstered confidence in an economic revival. Bank of Israel researchers forecast that output could expand 6.3% this year if the rapid pace continues.
This outlook encouraged the central bank to hold its benchmark rate on Monday despite an appreciating shekel that broke a 24-year high against the dollar later that day.
Israeli Shekel at 24-Year High as Growth Beats Iran Worry: Chart
Netanyahu has been the target of months of protests questioning his fitness to lead as he faces charges of bribery and fraud in connection with gifts received and positive media coverage allegedly sought. Opinion polls show him struggling to form a new government, with the field of challengers now featuring a high-profile defector from his Likud party.
Losing office could imperil his freedom. Only as prime minister would he be able to pass legislation sheilding himself from prosecution while in office.
"There's an incentive to roll it out as fast as possible," Mitchell Barak, a former Netanyahu aide, said of the vaccines. "The more people that get the vaccine the more people that might have a favorable look at Netanyahu."