Israeli Benchmark Index Sees Gains After Three-Day Plunge
(Bloomberg) -- Israeli stocks closed up Tuesday, recovering from a three-day plunge exacerbated by Prime Minister Benjamin Netanyahu's coalition vote to dissolve the parliament and move up elections by seven months.
The TA-35 bounced back from the decline as 30 index members advanced, with Bank Hapoalim Ltd. and Bank Leumi Le-Israel BM seen as the biggest contributors to gains.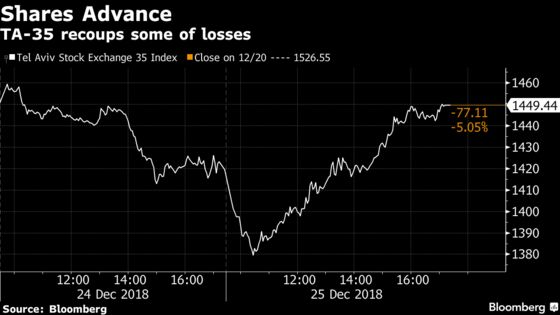 Tuesday's performance followed the steepest fall in more than seven years on Sunday, as drugmaker Perrigo declined the most on record due to concern over a $1.8 billion tax assessment.
Index added 2.11 percent. It is down 4 percent for the year.
Get More: 
Israel Stocks Cheapest Since 2013 as Sell-Off Drags On: Chart
On Dec. 24: Netanyahu Coalition to Dissolve, Elections Called for April
On Dec. 23: Perrigo's Slump Drags Israeli Stocks to Biggest Drop Since 2011