Israel Is Building an ETF Market Basically Overnight
(Bloomberg) -- Can you create a market for ETFs overnight? Israel's giving it a shot.
Market changes taking effect Thursday will begin to convert the Mideast country's $30 billion of exchanged-traded notes into the more globally popular exchanged-traded funds. The move will end the 18-year reign of ETNs in Israel, but could end up increasing the market share of passive funds in the country.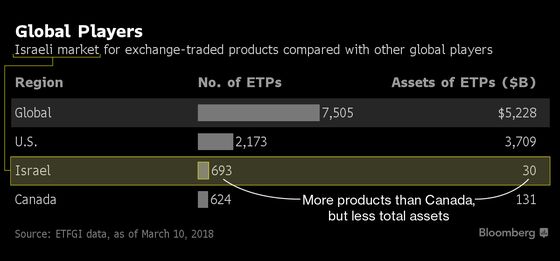 The regulations will be rolled out over the winter by various asset types, beginning with government bonds in early October and Israeli equities around the end of the month. They will convert all ETNs to ETFs, and the market should also expect a burst of new products to be issued during the first quarter of 2019 as the transition is completed, said Steven Schoenfeld, founder and chief investment officer of BlueStar Indexes.
"The fact that this huge exchange-traded products market grew up embedded in the ETN structure, which for the most part adds more-than-necessary risk into the system, was an anomaly," said Schoenfeld, whose firm has brought to market a couple of U.S.-listed funds tracking Israeli securities. "Getting this industry onto the more stable and globally accepted ETF structure is a major achievement."
The Israeli market for exchange-traded products is among the 12 largest in the world, comprising close to 0.6 percent of global assets, according to data compiled by research firm ETFGI. In terms of sheer volume, Israel is a massive player. There are currently about 693 Israeli ETNs, surpassing the number of exchange-traded products listed in Canada, according to ETFGI data. That's about one-third of all the products listed in the U.S.
Four insurers have a virtual monopoly, as they're the only Israeli firms with enough capital to set against the risk of an ETN, which differs from an ETF because it's a variation of a bond issued by an institution rather than a portfolio of holdings, like a fund. By converting these debt instruments into ETFs, more companies may opt to get involved because the structure carries less risk for issuers.
Traditionally ETNs have offered significant long-term tax advantages compared with most ETFs. But the notes carry credit risk. If the underlying bank goes under or the obligation can't be paid off, investors can lose their money.
Still, the ETF conversion may cause problems for foreign investors in local markets.
Philip Stein, chief executive officer of Jerusalem-based accounting firm Philip Stein & Associates, said the move could be an issue for American investors because their Israeli exchange-traded holdings can now be classified under the U.S.'s Passive Foreign Investment Company (PFIC) regulations, which are more costly and complex from a tax perspective.
As the head of the largest U.S. accounting firm in Israel, Stein has been hearing some confusion from his clients regarding the implications of these changes.
"I'm seeing a bit of deer in the headlights," he said. "They don't quite know what to do."