Israel Leader Says New Covid Variant Risks 'Emergency Situation'
(Bloomberg) -- Prime Minister Naftali Bennett said Israel was "on the verge of an emergency situation" after the new Covid-19 variant discovered in southern Africa was detected in a passenger arriving from Malawi.
"Our cardinal principle is to act now forcefully and quickly," Bennett said at a meeting with health officials, according to a statement from his office. "We are in a new situation now. This new variant is very worrying."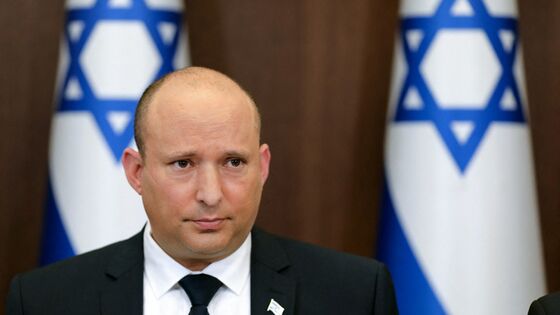 Scientists are still trying to determine whether the new strain, called B.1.1529, is more transmissible or more lethal than previous ones. What's clear is that it has the most mutations of any strain yet identified. That's raised concerns in South Africa and internationally, with authorities fearing a wave of cases that could increase pressure on already strained health-care systems. 
Ministers on Friday widened a travel ban to include all of Africa, with the exception of nations in the continent's north, and said they'd purchase another 10 million PCR tests calibrated to detect the new variant. Sewage will be examined to locate any outbreaks, and quarantine rules for Israelis returning from barred countries were tightened.
Authorities suspect three other people who returned from abroad may also be infected with the variant and have placed them in quarantine, Bennett said. "We assume there are more," he added.
Channel 12 said the passenger verified to be carrying the new strain was a foreign worker from Malawi who declined to go into isolation on arrival and took a bus to Eilat.
Israeli ministers dealing with the coronavirus will meet again Saturday to discuss additional restrictions. Channel 12 said halting flights to a swath of African nations was under consideration. The U.K. has already temporarily banned flights from South Africa and five neighboring countries.