Israel Health Ministry Pushes Law Requiring Shot or Test in Jobs
(Bloomberg) -- Israel's Health Ministry is promoting legislation that would require teachers, transportation workers and salespeople to get vaccinated or take frequent Covid-19 tests as a condition to work, according to Deputy Health Minister Yoav Kisch.
"If you're facing crowds and you see different people, you'll have to be in some way protected in order to save other people's lives," he said in an interview.
The pace of vaccination has slowed in Israel, whose vaccine drive is the world's leader, with 40% of the population inoculated. Cases are now coming down as the country gradually starts to emerge this week from its third lockdown.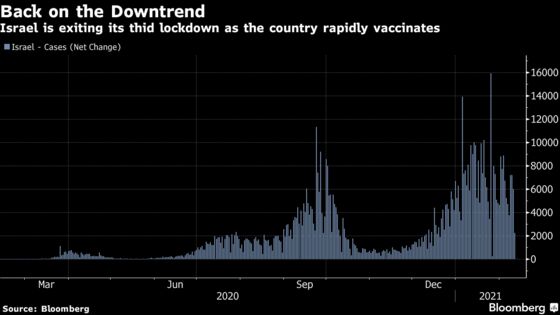 Kisch is hoping for swift enactment of vaccination requirements, but any new legislation would have to be passed by parliament, which has been deeply divided over how stringent pandemic regulations should be.
He also said proof of vaccination, recovery from coronavirus or a recent negative test may become a requirement to visit malls, gyms, restaurants and shows once they reopen.
"These are very strong things that can create the needed motivation to get the vaccine," he said.