Is MercadoLibre the New PayPal? Analysts Wonder as Payments Jump
(Bloomberg) -- "PayPal circa 2016?" Susquehanna wonders after the Latin American e-commerce retailer MercadoLibre posted fourth-quarter earnings marked by growth in its payments segment.
While the company is best known for its online marketplace platform, analysts are taking note of its strides in payments and fintech. In their latest earnings release, their payments operation MercadoPago saw more payments for the first time "off platform" (through merchant services, mobile points of sales and wallet payments with QR codes) than through their marketplace platform. Shares rose as much as 22 percent to their highest level ever.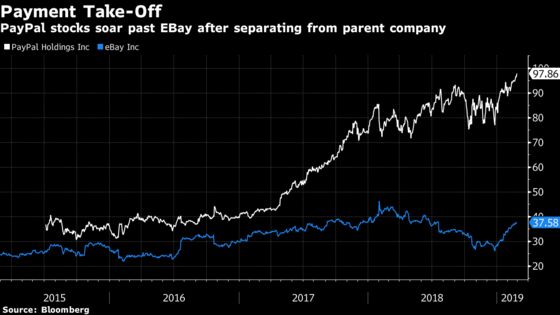 "This suggests that there's an identity for the MercadoPago product outside of the MercadoLibre marketplace," Susquehanna analyst Jamie Friedman said by phone.
And that's reminding some analysts of how PayPal, which was originally purchased by EBay in 2002 and used as its payments service, wound up being more valuable than its parent company, analysts at both Susquehanna and BTIG noted in separate reports. PayPal separated from EBay in 2015 to concentrate on expanding its electronic transactions business without being shackled to the slow-growing online marketplace.
"We remind investors that PayPal, once just a piece of eBay, is now worth 3 times more than its former parent," BTIG's Marvin Fong wrote in a note.
While MercadoPago is part of the larger company with a market cap of $20 billion, analysts like HSBC's Ravi Jain have used the multiples of its payments competitors in Brazil -- which is MercadoLibre's largest market -- to estimate that MercadoPago could be worth as much as $8 billion on its own.