Irish 'Warship' Seizes Northern Irish Trawlers, DUP Says
(Bloomberg) -- Northern Irish politicians blasted the Irish government in a row over fishing rights, saying a "warship" had seized two trawlers.
Two Northern Ireland trawlers have been impounded by an Irish Navy warship, the Democratic Unionist Party deputy leader Nigel Dodds said in an email statement on Thursday in Dublin.
"Despite the Voisinage Agreement to have reciprocal fishing arrangements, the Irish have never enacted any legislation to give legal effect to the agreement," Dodds said. "If they have been holding back as some bargaining chip on Brexit then it utterly exposes the Irish faux concern about a hard border on the island of Ireland. "
The dispute comes at a delicate time in the Brexit negotiations. The need to keep the Republic of Ireland-Northern Ireland border -- long the scene of tense checkpoints and violent protest -- invisible has shaped Brexit talks and led to an impasse over the so-called backstop. The backstop ties Northern Ireland and the rest of the U.K. closely to the EU, potentially indefinitely, according to many British lawmakers.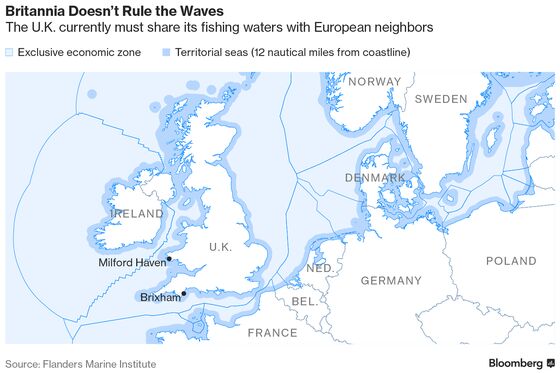 At present, Northern Ireland vessels are banned from fishing inside the Republic of Ireland's six-mile limit, the BBC reported.
An Irish Supreme Court ruling upheld a finding that "the Voisinage arrangements are not invalid but that, as it stands, there is insufficient provision for them in domestic law, " the Irish government said in a statement.
The government said it's addressing the gap in the law.