Irish Home Prices Grow at Slowest Rate in Nearly Two Years
(Bloomberg) -- Irish home prices rose at their slowest rate in nearly two years amid central bank restrictions on mortgage lending and increased supply on the market.
Prices rose 8.6 percent in August compared to a year ago, the Central Statistics Office said on Tuesday in Dublin. That was the slowest year-on-year increase since October 2016 and the fourth month in a row growth slowed. In Dublin, prices rose 6.1 percent -- less than half the rate of growth in April.
"While the gap between property demand and supply appears to be narrowing of late, resulting in a gradual easing in Irish property price inflation, there is still some distance to go before price trends are indicative of a balanced Irish property market," Austin Hughes, chief economist at KBC Group NV's Irish unit, said in a research note.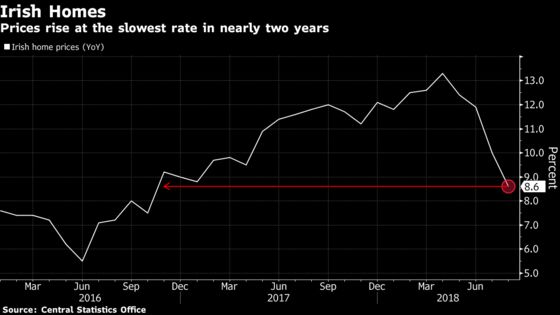 The slowing rate of growth is the latest sign of easing prices in what has been one of Europe's hottest real estate market in recent years. The nation's central bank moved to reign in excessive mortgage lending, while construction has increased amid a housing shortage. Prices have increased 81 percent since the depths of the financial crisis in 2013. Still, they remain 19 percent lower than their 2007 peak.
Home price inflation could finish the year at between 6 percent and 7 percent, Conall MacCoille, chief economist at Dublin-based securities firm Davy, said in a note. "Looking into 2019, we still expect mid-single-digit inflation rates."