Ireland Slams May's Failure to Make Progress on Brexit Plan
(Bloomberg) -- Ireland's government lashed out at the U.K.'s failure to make progress on a plan to avoid a border on the island following Brexit, escalating a warning that Britain could crash out of the bloc without a deal.
With little movement on the Irish question, negotiations need to intensify on the Irish backstop element of the withdrawal agreement, Irish Foreign Minister Simon Coveney said in an interview with state-broadcaster RTE on Thursday.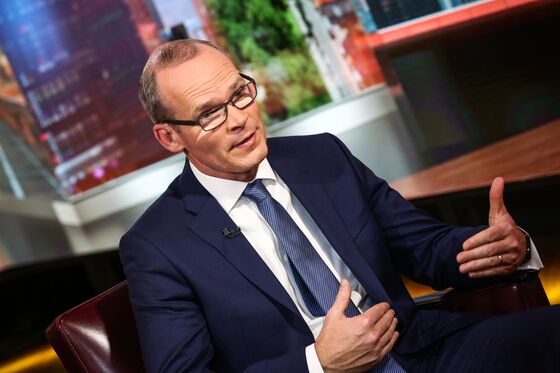 "Let's be very clear there will be no withdrawal agreement, that means there will be no transition agreements and no managed Brexit if the British government do not follow through on their clear commitments in writing to Ireland and to the EU as a whole," Coveney said.
Ireland is "frustrated" by the lack of progress, Coveney said, accusing Theresa May's government of negotiating with itself. On a visit to Dublin on Thursday, European Commission President Jean-Claude Juncker told lawmakers Ireland could "count on me" as the clock ticked down to Brexit.
Coveney said he had been reassured by the nation's European allies that Ireland wouldn't be left "isolated." Under no circumstances will border controls be allowed re-emerge, he said.
"There will be no hard border, no border infrastructure, and no related checks under controls," Coveney said.
European Union leaders will say next week they're concerned about the lack of progress in Brexit talks and call for member states to step up preparations in case no deal is reached, according to the first draft of their summit statement.
In Dublin, Juncker said no deal was not likely, but possible, as he urged the U.K. to solve the Irish question.
"Ireland comes first," he said.