iPhone Suppliers Fall After Qualcomm Says It Won China Ban
(Bloomberg) -- Apple Inc. fell in early trading on Monday, after it was reported that the sale of some iPhone models were banned in China following a lawsuit. Some closely watched suppliers to the smartphone also traded lower.
Shares of the Dow component fell 1.6 percent, and are trading nearly 30 percent below record levels. The stock is on track for its first annual decline since 2015.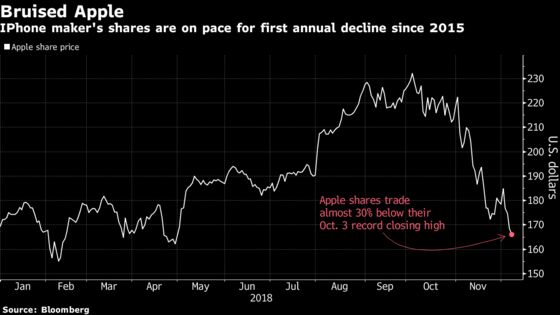 Among suppliers, Skyworks Solutions Inc. dropped as much as 2.6 percent, though it erased much of that loss, last trading down about 0.5 percent. Qorvo Inc. was off 1.2 percent.
Qualcomm Inc. said it won a ruling in China against Apple. The Fuzhou Intermediate People's Court ruled that Apple is infringing on two Qualcomm patents and issued injunctions against the sale of seven iPhone models in the country, including the iPhone X. Apple subsequently said that all iPhone models would remain available in China, and that it would pursue legal options through the courts.
China is a major market for Apple. According to Bloomberg data, the company derived nearly 20 percent of its 2018 revenue from the country.
The suit adds another potential headwind for Apple suppliers, which have been struggling amid signs of waning demand for iPhones. Companies including Qorvo, Cirrus Logic and Lumentum Holdings have recently slashed their outlooks in part because of smartphone weakness.
Shares of Qualcomm gained 2.9 percent.