Investors Scour Magazines to Surveys For Clues to Stock-Rout End
(Bloomberg) -- As the world grapples with the question of where the bottom lies for pandemic-wrecked global equities, the answer may be on magazine covers and in investor surveys.
Investors are getting creative in their quest to find the bottom as one benchmark after another has slipped into a bear market. Some market participants have started studying media coverage and investor sentiment surveys to gauge market mood, alongside conventional measures of valuations and returns.
The use of qualitative measures, like contrarian indicators, is picking as the MSCI AC World Index sits at the brink of a 20% cumulative drop from its record high. The rout steepened amid dwindling confidence that the U.S. is close to containing the coronavirus outbreak, declared a pandemic by the World Health Organization.
"How do you keep track of human behavior? No quantitative indicator can tell you. It will have to be qualitative," said Justin Tang, head of Asian research at United First Partners in Singapore. "At the point of maximum pessimism - look at news headlines declaring that the world is coming to an end," he added.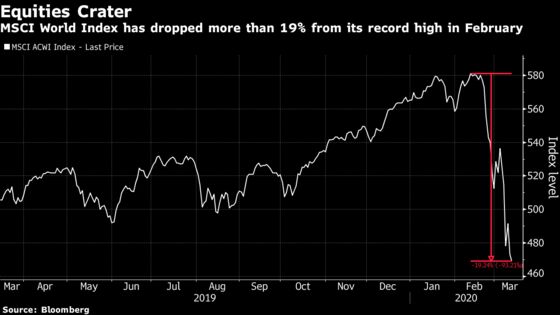 Here are some alternative methods that some fund mangers and analysts are using to find the bottom as the coronavirus continues to threaten the world:
Nader Naeimi, head of dynamic markets at AMP Capital Investors Ltd. in Sydney.
AMP is using wide range of sentiment indicators to see if markets "are getting close to climax levels usually seen at market bottoms." The measures in use include flows, demand for hedging, investor surveys and magazine covers.
"Our sentiment indicators are at GFC level" but liquidity is poor so there can be significant moves in either direction.
Surveys of Risk and Sentiment
Khiem Do, head of greater China investments at Baring Asset Management (Asia) Ltd.:
"It is challenging to determine where the bottom is" amid a a severe and indiscriminate stop-loss liquidation event, started and dominated by quant-driven and volatility-controlled leveraged funds.
"From a technical viewpoint, we use a survey of global risk and sentiment indicators which shows how panicky or exuberant market participants and cross-assets' price performances are.
"From a fundamental viewpoint, we continuously evaluate the implied risk premium in equity markets relative to bond yields and future cash flows derived from stocks."
Thomas Hayes, chairman at Great Hill Capital in New York:
"When companies rally on negative news, dividend cuts, pre-announcements that will be a sign that things could be turning.
"Wall Street is the only place in the world that when they throw a clearance sale, no one shows up. You have to start to take advantage when it looks dark and take a 1-2 year view.
"The last time there was a meeting of the banks like you saw today was a phone call in December 2018 (the weekend before the market bottomed). Time will tell…"
Steven Watson, equity fund manager at Capital Group Cos. in Hong Kong:
"All eyes are on the new-infections, particularly in major markets, such as the U.S., that have, until now, been lightly hit by the virus.
"One positive, though, is that central bankers have reiterated their intention to support their respective economies in the face of the pandemic-related economic weakness. This gives us some comfort on the outlook for longer term growth."
Antoine Bracq, fund manager at Lighthouse Canton Pte. in Singapore:
"Copper is a good leading indicator of corporate activity while gold is the obvious gauge for market sentiment.
"The pace of rating downgrades and corporate defaults should also be monitored closely. Eventually, an in-depth cash-flow analysis is required on equities.
"We anticipate equity, commodity and credit markets to remain in a prolonged period of choppy price action, skewed to the downside."