Mending Qatar Ties Won't Calm Investors Troubled by Saudi Shocks
(Bloomberg) -- Investors stunned by Saudi Arabia's unpredictable foreign policy under Crown Prince Mohammed bin Salman are unlikely to drop their guard even if the kingdom succumbs to U.S. pressure to resolve its conflict with neighboring Qatar and end the war the Yemen.
While both issues shocked the investor community when they first erupted, they have since been eclipsed by aggressive policies at home and abroad. Last month, investors put the prince's tactics under the spotlight after the killing of Saudi critic Jamal Khashoggi at the consulate in Istanbul caused an international uproar, sending the kingdom's credit risk rising by the most in the world.
"One thing is for certain: the price of Western support or tolerance for the Saudi regime became more expensive," said Julian Rimmer, a trader at Investec Bank Plc in London. "Western governments are under pressure from within to hold the Saudis to account over the Khashoggi murder which is interpreted as emblematic of wider wrongdoing, most notably in Yemen."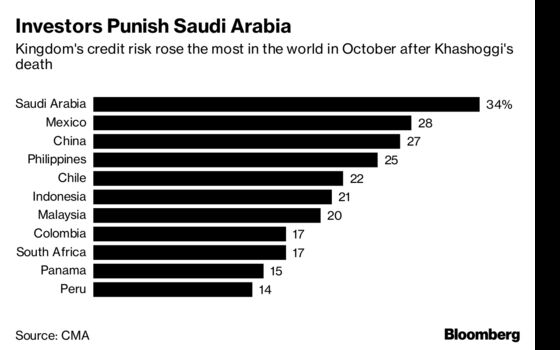 The 33-year-old prince -- commonly known as MBS -- had presented himself as a modernizer since his rise to power in 2015, winning praise for loosening restrictions on women and preparing the economy for a time after oil. His efforts have been undercut, however, by a domestic crackdown and aggressive foreign policy.
Last November, the government launched what it described as an anti-corruption purge, detaining dozens of billionaires, businessmen and princes at Riyadh's Ritz-Carlton hotel. The Lebanese prime minister was widely believed to have been held against his will by Saudi Arabia the same month and forced to resign.
There were further bumps when the kingdom was involved in a dispute with Canada in August following its criticism of the jailing of Saudi rights activists. All that was set against mounting tension with Iran, a war in Yemen and a lingering diplomatic and economic embargo against neighboring Qatar.
Now investors are questioning the prince's hold on power and how his relationship with the U.S. will evolve after the death of the high-profile Washington Post columnist.
"The Khashoggi case has not only to some degree shaken the position of MBS internally and externally, but more importantly, it is now also a significant test for U.S.-Saudi relationship," said Sergey Dergachev, who helps oversee about $14 billion in assets at Union Investment Privatfonds in Frankfurt.
Five-year credit default swaps for Saudi bonds climbed 34 percent, or 23 basis points, in October to 91 basis points. That's about 20 basis points higher than Qatar's
Qatari stocks went from being 2017's worst performers to among 2018's top gainers. The main index's 23 percent jump this year is almost three times the increase in Saudi stocks
A Saudi-led coalition of Arab nations accused Qatar of supporting terrorists and cut ties with Qatar in June 2017
'Small Positive' for Qatar
Meanwhile, gas-rich Qatar has managed to offset the impact of isolation by its neighbors on its economy, prompting Moody's Investors Service in July to reverse last year's cut in its credit-rating outlook. Any easing in tensions "should only be a small positive for Qatar," whose economy has proven to be resilient, said Max Wolman, a senior investment manager at Aberdeen Standard Investments.
Qatar "seems very capable of continuing to grow without the support of Saudi," said Wolman, who is based in London. "Our investment strategy wouldn't change on a resolution between the two countries."
Qatar's ruler on Sunday elevated younger royals and prominent business executives to top leadership positions in the biggest shake-up since the gas exporter retooled its economy and political alliances to resist a Saudi-led boycott imposed in 2017.
The plight of the Houthis in Yemen "attracts more international sympathy than the feud with the Qataris. I think the longstanding U.S.-Saudi alliance will prevail whether MBS helms the latter or not but, indisputably, the risk premium for Saudi has jumped. It can't and won't be business as usual"
Dergachev at Union Investment:
"Should they open up for talks with Qatar -- I do not mean abandoning sanctions -- this would be a first step, but I do not expect markets to rally or to become increasingly bullish about it"
While unlikely, the best case scenario for markets is for Saudi-Qatar relations to normalize again
"The key risks do come less from GCC issues per se or Yemen. It is more about how Saudi will develop and tackle her test with the U.S., or whether it will diversify away from the U.S. umbrella toward China, Russia etc., and how the internal position of MBS within Saudi royal family will evolve"
Note: Saudi King Salman Bin Abdulaziz is taking a more active role in government, according to two people close to the royal family
Naeem Aslam, the chief market analyst at Think Markets UK in London:
"MBS's credibility has been tarnished after the recent event, and making peace with its neighbors, including Qatar and Yemen, is the only way forward"
But it would be damage control because he needs to "assure the world that he has the ability to be a true leader. Certainly, making peace with Qatar would make the situation better as compared to now, but we're only speaking of a marginal difference"
Richard Segal, a senior analyst at Manulife Asset Management Ltd. in London
"While the Qatar-Saudi dispute has faded into the background, investors had lost confidence in a near term resolution. Were this to occur, it would be constructive from a market standpoint for both countries. However, there are complexities, relating to Qatar and its overtures to Iran, and Turkey's mixed interests"
Other concerns in the region include "the uncertain future of all the reform programs, the volatility of oil prices, Bahrain, the impact of Fed tightening and on the global economy of the trade war between the U.S. and China"
Akber Khan, the senior director of asset management at Al Rayan Investment in Doha:
The Saudi-U.A.E. embargo "was just one of the political moves in the Gulf in 2017 that took regional and international investors aback and unfortunately started cementing the region's reputation for being politically unpredictable"
An end to the boycott "in all its forms, would be a shot in the arm for sentiment as it might suggest a resumption of regional cooperation in a number of fields via the GCC"
"Given the unsurprising distrust built up between Qatar and its immediate neighbors, a resumption of trade would be very unlikely to follow immediately though; the exception may be aviation"
Abdul Kadir Hussain, the head of fixed income at Arqaam Capital, a Dubai-based investment bank:
"Anything that reduces geopolitical risk in the region and attempts to reestablish flows within the GCC back to previous levels, will most likely be viewed positively and result in lower credit spreads across the region"
If Saudi Arabia ends the war in Yemen, "lower defense expenditure will further improve fiscal balances for Saudi, thereby enhancing credit quality"
While Arqaam is currently "neutral" on Qatar's bonds, the spreads could narrow by 25 to 30 basis points if an agreement is reached
Spreads on Saudi debt will likely narrow too by a similar magnitude given its inclusion in JPMorgan Chase & Co.'s emerging-market bond indexes next year. It is also relatively cheap compared with similarly rated sovereign debt
Carla Slim, an economist for Standard Chartered Plc in Dubai:
"The U.S., along with Kuwait, have led an ongoing mediation effort in the GCC rift. If the renewed attempt at getting both countries to engage in dialogue results in a resolution, this would indeed lift some investor concern with regards to geopolitical risk and uncertainty in the region. Such a boost to sentiment would translate to markets"
"Qatar's economy has fared well with regards to its external sector. The country has diversified its export partners, which, along with higher hydrocarbon prices, has resulted in a better external position"