Investors Punish South Africa for Its Budget With Dismal Auction
(Bloomberg) -- So that's what bond investors think of Finance Minister Tito Mboweni's maiden budget.
In the first scheduled bond auction since Mboweni delivered his fiscal update to lawmakers on October 24, demand dropped 67 percent from the previous sale to the lowest since March, when the amount offered was reduced to 2.4 billion rand ($164 million) a week, according data compiled by Bloomberg.
Primary dealers that buy bonds directly from the South African government on Tuesday placed 4.17 billion rand of orders, well below the 7.4 billion rand average over the past eight months, National Treasury data shows.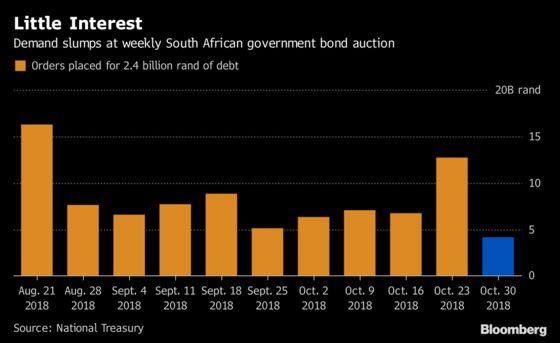 Mboweni revised growth and tax revenue forecasts lower, while targeting a wider budget deficit and higher government debt over the next three years than previously predicted. The budget was credit-negative, according to Moody's Investors Service, the only major rating company that still ranks South Africa's debt at investment level.
The "uninspiring" auction showed investors are betting benchmark yields are still too tight, even after they climbed to the highest level this year, said Deon Kohlmeyer, a fixed-income trader at FirstRand Ltd. in Johannesburg. "The budget was not great for bonds."
Yields on benchmark 2026 government bonds rose five basis points to 9.29 percent by 3 p.m. in Johannesburg. South African government rand bonds have lost 11 percent for dollar investors this year amid a record sell-off by foreign investors.