Investors Liquidate Everything in Record $137 Billion Cash Haul
Investors made their biggest dash for cash in history over the week that broke the bull market.
They channeled $137 billion into cash-like assets and a record $14 billion into government bonds in the five days through March 11, according to Bank of America Corp. research citing EPFR Global data. Gold got its second-biggest inflow ever at $3 billion.
As the coronavirus outbreak is met with policy impotence from Europe to America, money managers are liquidating en masse. The losers include investment-grade and high-yield bonds and those of developing nations. Even before Black Thursday, investors yanked an unprecedented $34 billion out of these risk assets in total in the week through Wednesday.
In a dysfunctional market, the return of capital over the return on capital is the investor mantra.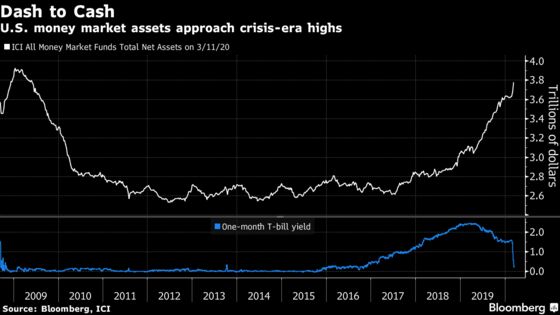 "Everybody just wants to hold perceived safe havens," said Vishnu Varathan, head of economics and strategy at Mizuho Bank Ltd. "There's certainly a flight out of risky assets, which includes the universe of emerging-market assets across the equities and FX space, and the flight hasn't ended."
Whether the record exodus signals a positioning cleanout from here is anyone's guess with a growing number of businesses and consumers in lockdown across the developed world.
Yet Bank of America strategists said the Federal Reserve's latest bazooka, in the form of $5 trillion of liquidity to shore up the economy, offers hope.
"QE5 promises massive market liquidity, sets up a big market rebound if a credit crunch is averted and fiscal policy short-circuits recession," they wrote in a note to clients.
The historic outflows from the BofA report:
1. Biggest IG + HY + EM debt outflow ever ($34.1bn)
2. Biggest cash inflow ever ($136.9bn)
3. Biggest government bond inflow ever ($13.9bn)
4. Biggest financial sector outflow ever ($3.3bn)
5. Second-biggest inflow to gold ever ($3.1bn)