Investors Flee Materials ETF on Sluggish Earnings Expectations
(Bloomberg) -- Lackluster earnings are scaring investors away from the largest exchange-traded fund tracking the materials sector.
More than $448 million was pulled from State Street Corp.'s Materials Select Sector SPDR Fund, or XLB, last week, reducing its assets by 15 percent to $3.18 billion, the lowest in at least a year, according to Bloomberg data. The outflow was the most for any week since 2014 for the fund, which has seen $680 million flee in the past year.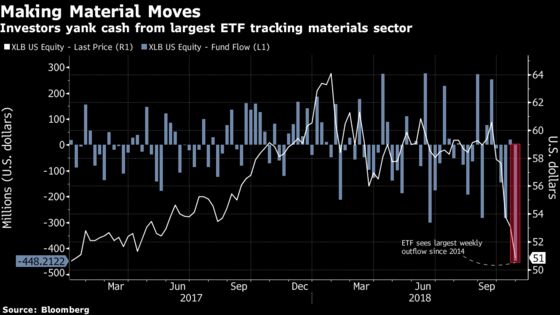 Paint maker Sherwin-Williams Co., XLB's fourth-largest holding, plunged last week after the company cut its full-year earnings forecast, citing higher costs from efforts to ramp up sales at Lowe's Cos. The shares fell the most in two years last Thursday.
That's not all. Chemical giant DowDuPont Inc., XLB's largest component, also slipped this month after it cut the asset value of its DuPont Co. agriculture businesses. The stock is down 18 percent in October.
"Cyclicals, like the materials sector, are being decimated globally on growth concerns," said Dave Lutz, managing director of JonesTrading. "And with some chemicals earnings coming up, investors are continuing to watch the sector closely."
Among the companies owned by XLB that will report earnings this week are LyondellBasell Industries NV, its seventh-largest holding.