Investors Brace for a Bumpy Road as Brazil Starts Pension Reform Talks
(Bloomberg) -- Brazil strategists and investors are preparing for some choppy trading as negotiations on the bill to overhaul the country's pension system begin.
Markets are hoping that the cornerstone of the government's economic agenda will be swiftly approved, putting the fiscal accounts back on track. Yet, Economy Minister Paulo Guedes is said to start negotiating directly with lawmakers due to concern the administration has made little progress selling the proposal in Congress. Lawmakers resume work next week, Brazil's unofficial start to the year following the Carnival holiday.
"Political noise will keep hurting the market," said You-Na Park, a strategist at Commerzbank in Frankfurt. "As long as the market cannot be sure that the reform will be approved by Congress, uncertainty will persist and this should weigh on Brazilian assets."
The Brazilian real erased its 2019 advance on Thursday as widespread controversy over a twitter post made by President Jair Bolsonaro took center-stage and amid a sour mood over risky assets. Traders are increasingly positioning for more bumps ahead, sending one-week implied volatility jumping the most among emerging-market currencies over the past week. While stocks are still holding on to their gains, foreign investors pulled 2.6 billion reais ($670 million) out of equities last month, according to exchange data compiled by Bloomberg.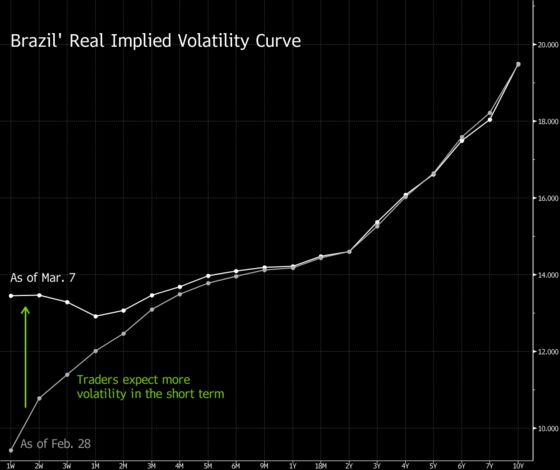 Investors are focusing on how quickly the bill will go to the lower house and how big a dent negotiations with lawmakers will put in the targeted savings, which the government estimated 1.16 trillion reais in 10 years.
"Something needs to get going soon before the optimism starts to really fade," said Brendan McKenna, a currency strategist at Wells Fargo in New York. "When the bill does go to the lower house, I'd like to see savings in the area of at least 700 billion reais to at least put Brazil on a somewhat sustainable trajectory. Anything below that and the Brazilian real is in trouble."
The installation of the justice committee in the lower house, the first of the committees that have to analyze the bill before it is sent over for a floor vote, might be a positive signal, he said. If no progress is seen, the real could "easily" slide through 4 per dollar, according to McKenna.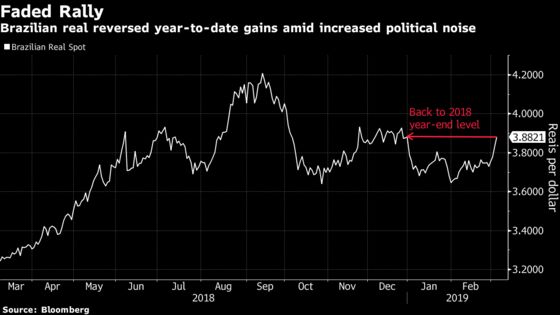 A lawmaker from Bolsonaro's PSL party told Globo that if the committee isn't ready by next week, the reform vote might be delayed to the second half of the year.