Investor Hopes for German Recovery Dampened by Uncertain Outlook
(Bloomberg) -- Investors dampened their expectations about the rebound in Germany, adding to signs that it still has a long road ahead as it recovers from the coronavirus lockdowns in the first half of the year.
While a ZEW gauge of current conditions in Europe's largest economy improved in July, confidence for the next six months slipped. The survey comes on the heels of reports highlighting that weak export demand has weighed down momentum, and warnings that a second wave of infections could quickly derail any progress.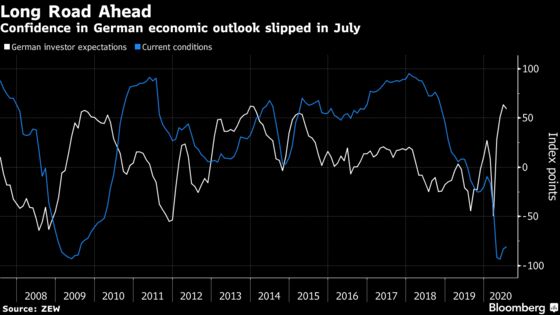 After deploying unprecedented stimulus to save the economy from the immediate fallout of the virus, Chancellor Angela Merkel's government launched a 130 billion-euro ($147 billion) plan that includes tax incentives, aid for childcare and municipal governments, as well as spending on cleaner energy and digitalization.
The economy is still projected to contract by more than 6% this year, and the government warned Monday that the recovery from the trough in the second quarter is only just starting. Some 6 million workers were enrolled in a short-term employment program in May, down from 6.8 million a month earlier, according to preliminary figures from the labor ministry.
"The outlook for the German economy largely remains unchanged compared to the previous month," ZEW President Achim Wambach said in a statement. "After a very poor second quarter, the experts expect to see a gradual increase in gross domestic product in the second half of the year and in early 2021."
The European Commission cut its outlook for the euro area last week, saying risks remain "exceptionally high and mainly to the downside."
Banks continue to be nervous about economic prospects, and are preparing for a "considerable" tightening of their loan standards as government guarantees programs established during the coronavirus pandemic come to an end, according to an ECB survey published Tuesday.
A separate report showed industrial production in the 19-nation currency bloc rose less than economists predicted in May, remaining more than 20% below last year's levels. While output in Italy surged nearly twice as much as forecast, activity remained below expectations in Germany and Spain.
| Euro area | May (m/m) | April (m/m) |
| --- | --- | --- |
| Total industry | 12.4% | -18.2% |
| Intermediate goods | 10.0% | -17.0% |
| Capital goods | 25.4% | -26.1% |
| Durable consumer goods | 54.2% | -32.3% |
| Non-durable consumer goods | 2.8% | -12.7% |
European Union leaders are meeting at the end of the week in an attempt to agree on a 750 billion-euro recovery plan for the bloc. The program is meant to rein in the divergence among the region's economies, as southern European nations including Spain and Italy are expected to fare significantly worse than Germany and other countries less reliant on tourism.
The European Central Bank is expected to hold off on more monetary easing when its Governing Council meets virtually on Thursday, after committing 1.35 trillion euros for an emergency asset-purchase program and flooding banks with liquidity so that they keep lending to businesses.