A Dollar Bear Turns Bull to Face Down New Virus Wave
(Bloomberg) -- King Dollar is proving irresistible even to Alessio de Longis, who until a few weeks ago had been underweight the greenback in favor of cheaper currencies around the world. 
De Longis, a senior portfolio manager at Invesco Investment Solutions, is betting the dollar will outperform anew on setbacks in global growth expectations thanks to new virus cases in Europe. 
Even though his valuation models suggest the currency is expensive, a gangbusters U.S. economy is leaving the rest of the world in the dust to stoke the dollar along the way -- the ultimate international-funding currency.
"We find that a powerful driver of the dollar is how economic data surprises are printing, especially outside the U.S," de Longis said in a telephone interview from New York. He moved to an overweight position on the dollar versus the euro, the pound, and the yen in October. 
The shift by the Invesco manager highlights a growing monetary divergence between the U.S. and regions like Europe, something also embedded in bets on faster Federal Reserve policy tightening.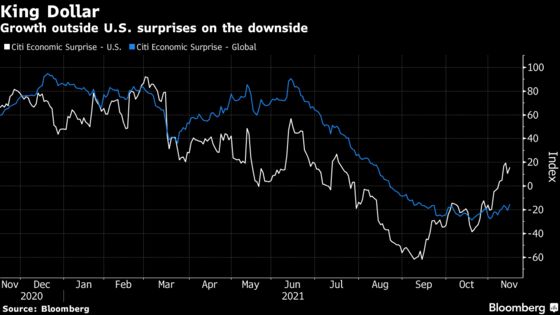 The dollar advanced Tuesday after a report showed the biggest jump in U.S. retail sales since March. By contrast, the euro is trading at the lowest in more than 15 months against the U.S. currency amid record new infections in Germany and a partial lockdown in the Netherlands. 
De Longis says the euro could fall to $1.10 from $1.1349 currently.
While new cases in the U.S. are also trending higher, vaccine supply means the economy may be able to skirt restrictions that are now under consideration by Europe's biggest economies. Americans received 10 million vaccine doses last week, the most since late May, including booster shots and inoculations for children aged 11 and under.
"In both developed markets outside the U.S. and emerging markets, the return of Covid concerns, the fourth wave in Europe, and the delay of the full re-opening of the economy are now affecting growth data," said de Longis, who also serves as head of tactical asset allocation.
Market positioning points to further gains for the dollar, with two-week risk reversals in favor of the currency against all its G-10 peers. Further out, euro six-month riskies at 70% in favor of puts, the most bearish for the European currency in more than a year.
Meanwhile, a growing monetary gap points to the Fed policy rate rising 50 basis points in 2022 versus 10 basis points for Europe, and some strategists are building in a faster pace for the U.S. into their forecasts. Bank of America's head of G-10 strategy Athanasios Vamvakidis expects quarterly hikes from late 2022 through at least 2024 to curb inflation, setting the stage for bigger rate differentials that favor the dollar.
"The Fed will have to prepare markets for an earlier and faster tightening cycle," Vamvakidis said. "Inflation has increased in all G10 economies this year, but has increased the most in the U.S."