Inter Milan Hires Goldman to Steer Debt Refinancing
(Bloomberg) -- Italian football club FC Internazionale Milano SpA has hired Goldman Sachs Group Inc. to work on the refinancing of its outstanding debt, according to people familiar with the matter.
With a 425 million-euro bond ($482 million) maturing at the end of the year, Inter Milan mandated the investment bank to launch a new bond of approximately the same size and with a five-year tenure, according to one of the people. Goldman held investor meetings before the Christmas holidays and the transaction could close in the coming weeks. 
Inter Milan is the latest in a long series of football clubs attempting to better its capital structure after a wave of pandemic-induced financial stress hit the sector. Unlike its peers Barcelona, Real Madrid and Manchester City, which opted for loans and privately placed bonds, Inter Milan is opting for the public debt market route.
A spokesperson for Inter Milan declined to comment. Goldman Sachs did not respond to an immediate request for comment. 
The current bond becomes callable at 100 cents on the euro after January 24, according to Bloomberg data. 
News of an upcoming refinancing of Inter Milan's bond first appeared in a column by Italian daily Il Sole 24 Ore.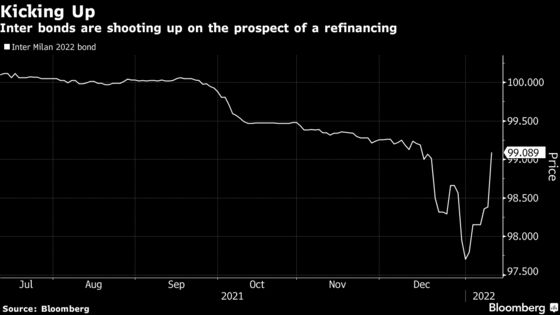 Despite success on the pitch and victory in the domestic league last year, Inter Milan saw its finances suffer as the government barred fans from stadiums to limit the spread of the coronavirus. It recorded the highest-ever loss by an Italian football club, 245.6 million euros, in 2020/2021, as noted by KPMG's Football Benchmark. 
In a quest for fresh capital following the pandemic, Inter Milan's majority shareholder Suning Holdings Group Co. held talks with private equity firm BC Partners. It eventually obtained a lifeline worth 275 million euros from Oaktree Capital in May 2021. 
More recently, Suning has reconsidered making a fresh attempt to bring in new financial backers for the football club.