Insys Sales Chief Gets to 26 Months in Opioid-Fraud Case
(Bloomberg) -- Insys Therapeutics Inc.'s former head of sales, who dressed as a giant bottle of the company's addictive painkiller in an internal rap video to extol the virtues of higher dosages, was sentenced to 26 months in prison for his role in a conspiracy that helped fuel the deadly U.S. opioid epidemic.
Alec Burlakoff headed a sales team that provided sham speakers' fees and other inducements for doctors who ramped up their prescriptions of Subsys, the company's opioid-based pain medicine. He pleaded guilty and testified against other top Insys managers at a trial last year.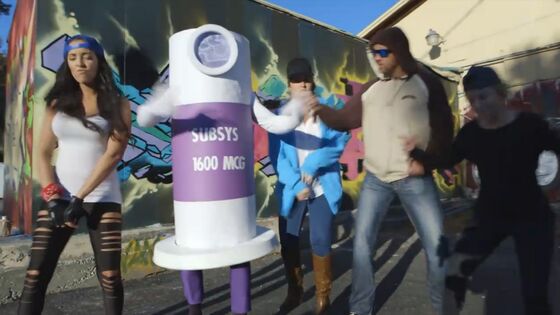 "This was an offense of greed," U.S. District Judge Allison Burroughs said before sentencing Burlakoff on Thursday in Boston. Previously, the judge called him one of the "co-architects" of the Insys bribery and fraud conspiracy.
Several Insys managers have already been punished after being convicted at a trial in May. On Wednesday, former chief executive officer Michael Babich got 30 months in prison. The last of the group, company founder John Kapoor, will be sentenced later on Thursday.
Prosecutors had sought a 20-month sentence for Burlakoff, citing his "remarkable" cooperation with the government. At the sentencing hearing on Thursday, Assistant U.S. Attorney Fred Wyshak asked the judge to "hold your nose" and reward Burlakoff, who came to investigators long before the trial and revealed the inner workings of the scheme.
Burlakoff said he had been obsessed with becoming successful, which made him do things he now regrets.
"I didn't think of who we were at Insys, and how unethical what we were doing was," he told the judge on Thursday. "The only thing I could think was how could I keep up with the fast and furious pace necessary to get ahead."
The judge told Burlakoff he will have "to live with the fact that some of these other people got swept into this because you recruited them."
Burlakoff had hired a stripper, Sunrise Lee, to be an Insys sales executive to help woo doctors to boost their prescriptions of Subsys. Testimony showed Lee gave a Chicago doctor a lap dance to encourage him to keep writing lots of Subsys prescriptions.
Lee, who was sentenced to a year in prison Wednesday, was hired after Burlakoff saw her in a Florida strip club and began dating her, according to prosecutors. She later oversaw one-third of the Insys sales force. According to Lee's attorney, Burlakoff instructed Lee to "flaunt her physical beauty" in meetings with doctors, and told her to "smile and close" the deal.
Last week, Michael Gurry a former vice president who ran a call center for the Arizona-based company, got 33 months. This week, Burroughs sentenced former regional sales manager Joseph Rowan to 27 months in prison and gave former national sales director Richard Simon 33 months.