ING's Moscow Branch Was Involved in 'Troika' Laundering: Trouw
(Bloomberg) -- Want the lowdown on European markets? In your inbox before the open, every day. Sign up here.
ING Groep NV is struggling to move on from its money laundering woes, six months after paying one of the biggest fines ever levied on a Dutch bank.
Hundreds of millions of euros passed through the bank's Moscow branch as part of a money laundering scheme constructed by Troika Dialog, according to the latest allegations published in Trouw newspaper on Tuesday, citing an investigation by the Organized Crime and Corruption Reporting Project, or OCCRP.
The bank's Belgian unit was also named in a report by Knack magazine as one of the lenders that saw money flowing into its so-called correspondent accounts from Ukio Bankas -- a Lithuanian bank that was at the center of the laundering scheme -- between 2006 and 2009.
ING Belgium alerted the local authorities in 2009 about the inflows from Ukio Bankas, according to a 2010 report from Belgian newspaper De Tijd.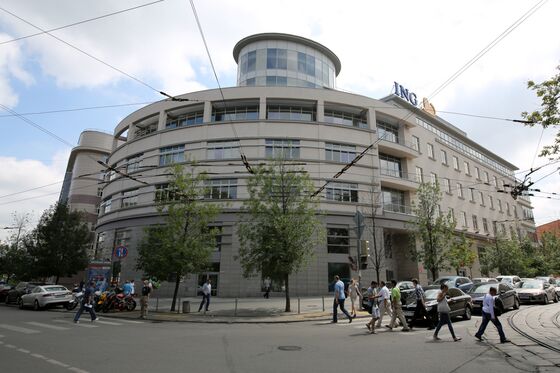 More European banks are being drawn into money-laundering allegations centered on dirty Russian money, adding to the scandal in an industry still recovering from the financial crisis. Initially centered on Danske Bank A/S in Denmark and Sweden's Swedbank AB, allegations of suspicious transfers widened this week to include Raiffeisen Bank International AG in Austria and several Dutch institutions including ING after the report by OCCRP.
ING fell as much as 5 percent in morning trading, adding to a 3.3 percent decline on Tuesday.
The bank agreed to pay 775 million euros ($875 million) to settle an investigation by the Dutch prosecutor into issues including money laundering and corrupt practices in a criminal case last year. The lender acknowledged "serious shortcomings" in executing due diligence policies to prevent financial crime at its Dutch unit from 2010 to 2016.
ING's awareness of money-laundering risks has increased since this case, spokesman Raymond Vermeulen said by phone. "We started an extensive enhancement program to improve our systems," he said.
Last year's investigation focused on the bank's role in matters including unusual payments by VimpelCom Ltd. to a company owned by a Uzbek government official, the Dutch public prosecution office has said. ING was suspected of failing to report unusual transactions or not reporting them in time. After the fine, the company ousted Chief Financial Officer Koos Timmermans, who had overseen the unit at the center of the case.
The most recent revelations may turn the spotlight once more on Chief Executive Officer Ralph Hamers. The bank came under pressure from shareholder advocates, politicians and clients after last year's settlement and a botched proposal to boost the CEO's pay.
The Netherlands' three largest banks are scrambling to hire experts as they step up efforts to fight money laundering. ING is looking for several hundred people to scour client accounts. Rabobank is searching for an extra 250 people and ABN Amro plans to add 400 employees.