ING Provisions Surge as Van Rijswijk Signals Worst Is Over
(Bloomberg) -- ING Groep NV signaled the worst of the bad loan pain may be over after the largest Dutch bank said costs to cover souring debt more than doubled in the second quarter.
Chief Executive Officer Steven Van Rijswijk, who took over last month, stashed away 1.34 billion euros ($1.59 billion) to deal with expected defaults, bringing the total in the first half to about 2 billion euros. The new CEO said the number reflected an economic outlook that worsened during the quarter and a "sizeable" impact from a fraud case, and that provisions will likely come down from here.
Assuming no further deterioration, "we had the bulk of the risk costs, and the risk costs in the second half will go down," Van Rijswijk said on a call.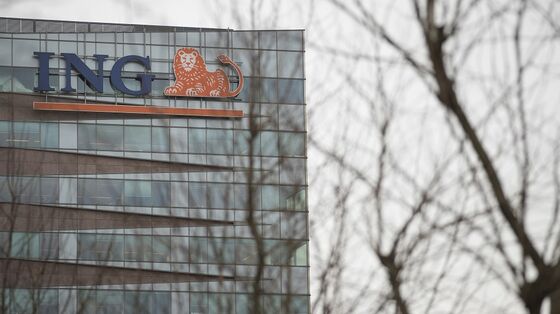 Net income slumped 79% to 299 million euros amid the provisions and a goodwill impairment that came in slightly higher than previously announced, at 310 million euros. Banks like ING that slashed their trading units after the financial crisis in an effort to make earnings less volatile are struggling to contain the fallout from the coronavirus pandemic, because they have few businesses to offset the hit to their loan books.
Spain's Banco Santander SA, which like ING is heavily dependent on lending income, slumped to a historic $13 billion loss in the second quarter because of writedowns to reflect the worsening economic outlook. The biggest Wall Street banks, by contrast, posted record revenue from their dealmaking and trading units last quarter, allowing them to put billions of dollars more aside for potentially bad loans.
ING fell 1.6% at 9:07 a.m. in Amsterdam trading, bringing losses this year to 43%.
The bank didn't identify the suspected fraud case that contributed to the higher provisions, but it is among the lenders most exposed to the collapse of Wirecard AG, Bloomberg has reported.
The defunct payments company had a credit facility of 200 million euros with ING, which about 90% was drawn at the time of its failure, Bloomberg has reported. Commerzbank AG, which had a similar exposure, took a 175 million-euro provision for that loan in the second quarter. ING rival ABN Amro Bank NV is also likely facing losses.
Despite the cost to deal with bad loans, ING's capital strength improved as the bank cut risk. The widely-watched common equity Tier 1 ratio rose to 15% from 14% three months earlier.
"We have seen that capital beats are not widely rewarded in EU bank reporting thus far, but given the size and the valuation of ING we would expect these results to go down well," Mediobanca SpA analyst Robin van den Broek wrote in a note.
After succeeding Ralph Hamers roughly a month ago, Van Rijswijk is taking on the challenge of navigating ING through one of Europe's deepest recessions in decades. The 25-year ING veteran said after his appointment that he's unlikely to make any sweeping changes to the bank in the short term, having served on the executive board already for some years.
Even after adding millions of customers in recent years, ING has struggled to be more profitable after low interest rates and increased compliance costs weighed on profit margins. Net interest income declined 1.2% in the second quarter, offsetting a 1.7% gain in fee and commission income as clients traded more.
The bank is still looking for a new chief risk officer, a position previously held by Van Rijswijk. Chief Financial Officer Tanate Phutrakul is overseeing risk in the interim.