Inflation Jolts Back to Target as Egypt Monthly Price Dips
(Bloomberg) -- Monthly consumer prices in Egypt fell for the first time since January to bring annual inflation back within the central bank's target range, a drop likely to encourage policy makers to hold interest rates in December.
Prices in December dropped 0.8 percent from the previous month, after a 2.6 percent jump in October, as the increase in food costs moderated, the state-run statistics agency CAPMAS said on Monday. That pushed the annual rate to 15.7 percent, just below the ceiling of the central bank's goal of 13 percent, plus or minus 3 percentage points.
Core inflation, the gauge used by the central bank that strips out volatile items such as food, slowed to 7.94 percent in November year on year from 8.86 percent the month before.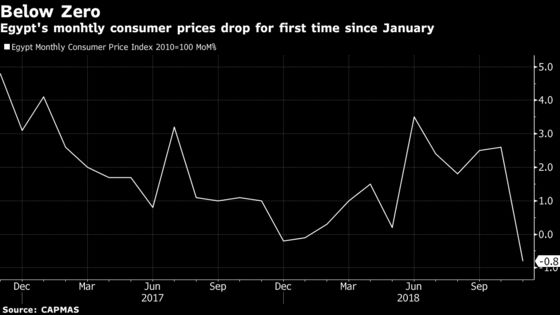 "The government increased the supply of vegetables that had created a problem in months past," said Radwa El Swaify, head of research at Pharos Holding in Cairo. "This helped bring the annual rate back in line with the target."
The biggest monthly drop in percentage terms since June 2015 brings good news to Egypt's government, after prices had recently risen at an increasingly faster pace. While the pickup has been attributed to seasonal factors, it all but dashed hopes for further rate cuts this year.
Officials are increasingly optimistic of further reducing the budget deficit and boosting economic growth, even as they try to shift away from a reliance on borrowing at a time when foreign holdings in Egyptian debt are slowing.
The central bank just ended a mechanism that guaranteed foreign investors could withdraw their hard currency profits -- a move aimed at pushing those wishing to buy Egyptian equities or sovereign debt to use the interbank market.
The annual price deceleration may be short-lived, however, following the Finance Ministry's decision last month to raise the customs exchange rate on non-essential goods. Economists believe the decree will affect the headline figure even though it doesn't include core items that factor into the consumer-price basket.
The decision could send inflation up as much as one percentage point in December, according to El-Swaify, who said she wouldn't be surprised if it went up more as importers pass on cost increases to consumers.
December inflation "will reflect the seasonal rise in prices, in addition to the partial, quicker rise in prices of non-essential imported items that will be repriced in anticipation of the revised customs rate," said independent economist Reham El Desoki.