Inflation Is Flagging in European Capital of Negative Rates
(Bloomberg) -- The country with the European Union's lowest interest rates also has one of the bloc's lowest rates of inflation.
Harmonized data published on Thursday by Eurostat placed Danish annual inflation at 0.7 percent in December, a whisker above Portugal and Greece's rate of 0.6 percent and less than half the euro area's average of 1.6 percent.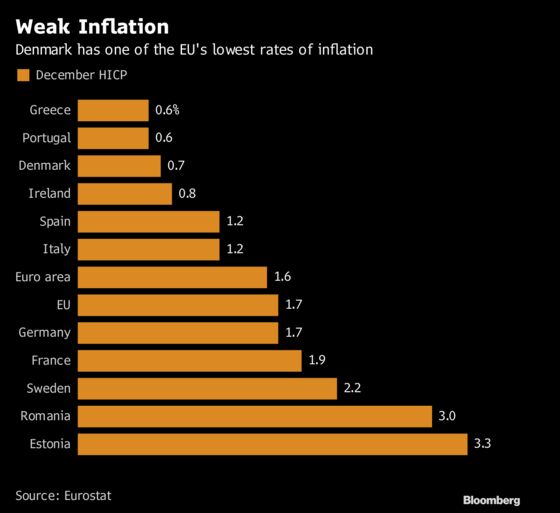 Economists in Copenhagen say the reasons for the weak growth in consumer prices include greater competition in the retail sector, which has dampened food prices, and subdued rises in transport costs. House prices, which have surged thanks to a central bank rate now at minus 0.65 percent, have not had an impact since Denmark's basket includes rents, many of which are regulated, Nordea economist Helge Pedersen said in Copenhagen.
Finally, the krone's peg to the euro limits Denmark's scope for importing inflation.
Tore Stramer at Nykredit said Danish inflation should converge with the euro area's rate in 2019, with wage growth rising from its current level of 2.3 percent to "just over 3 percent in the years ahead."
The Danish central bank first reduced its benchmark rate below zero in 2012, and Stramer argued that such a long stretch of negative rates appears to have affected inflation expectations.