Inflation, Fed Put Korea Rate Hike in Play Again: Decision Guide
The Bank of Korea will likely consider raising interest rates again this week as it seeks to keep inflation under control and prevent volatile capital flows as the Federal Reserves gears up for a series of hikes.
Two-thirds of 18 economists surveyed by Bloomberg expect a quarter-percentage-point hike to 1.25% on Friday, for the third increase since the central bank started to pull back from its pandemic stimulus settings last summer.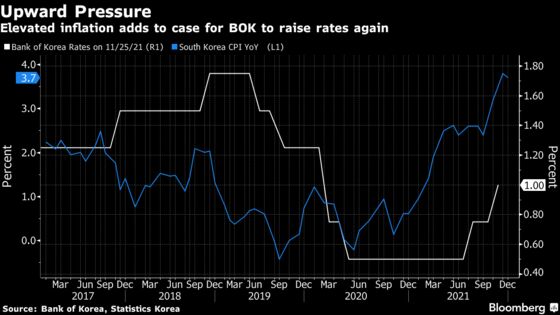 Governor Lee Ju-yeol has flagged that a hike in the first quarter is possible if the economy's recovery remains on track. 
Lee has also warned that omicron presents the biggest threat to the recovery, but recent developments have bolstered bets that the BOK will act sooner rather than later. Inflation remains high, local Covid infections are coming down from a peak, and the Fed has turned increasingly hawkish. 
While the jobless rate jumped to 3.8% in December, economists highlighted job gains from a year earlier and an increase in those expecting to find work.
A rate increase this week is likely "on the back of lingering concern about financial imbalance in the assets market and inflationary pressure build-up," Bank of America economists including Kathleen Oh wrote last week. 
While Governor Lee has previously said the BOK need not follow the Fed's pace of tightening, Korean officials likely want to maintain a level of interest rate premium over the U.S. to keep capital flows steady. 
Swap markets have priced in more than three rate increases by the BOK this year, a more aggressive bet than economists who see two. Korea's government bonds have slumped since mid-December as investors braced for further tightening, while calls for an extra budget raised the odds of increased debt supply. 
Korean policy makers have also ramped up their warnings on high price gains. Inflation came in at 3.7% for December, close to a decade high and far above the BOK's 2% target.
Such inflation risks, still-high property prices, and faster hikes expected from the Fed support the case for monetary tightening. 
Still, the country is continuing to find thousands of new Covid infections each day, a factor that clouds the outlook. The government has kept strict virus curbs in place since mid-December. Services spending has been hit with caps on the size of private gatherings and limits on business hours.  
The omicron outbreak and mobility restrictions could give the bank reason to wait longer and avoid a rare back-to-back rate hike. Among respondents forecasting a hold decision this week, some see the third hike coming at the next meeting in February.
Complicating Korea's monetary policy outlook is a lack of clarity on Lee's successor. The end of Lee's term in March coincides with the country's presidential election, leaving much up in the air over who will appoint the next governor.