Indonesia to Hold as Taper Talk Weighs on Rupiah: Decision Guide
(Bloomberg) -- Bank Indonesia will likely hold its policy rate steady to protect the rupiah amid fresh signals that the U.S. Federal Reserve could start considering unwinding stimulus this year, which has pressured Indonesia's currency.
All 29 economists surveyed by Bloomberg expect Indonesia's central bank to keep its seven-day reverse repurchase rate at a record low of 3.5% on Tuesday, with some of them expecting it to remain at that level for the rest of the year.
Even though Southeast Asia's largest economy contracted more than expected in the first quarter, Bank Indonesia has little room for further rate cuts, said Brian Tan, an economist at Barclays Plc.
"We note the risk that the central bank may come to view additional policy easing as warranted, but we expect concerns over the volatility of the currency to stay BI's hand on the policy rate and divert its focus instead to other levers, such as macroprudential policy," Tan said.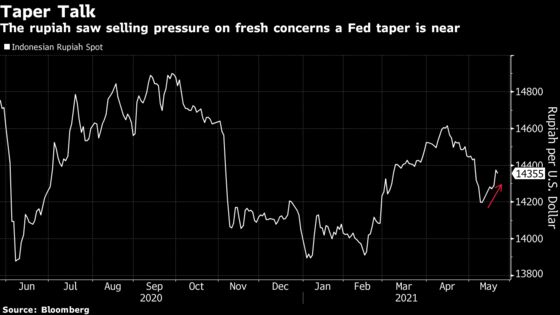 Here's what to look for in Tuesday's decision:
Emerging markets have been rocked by fund outflows since Federal Reserve officials said they might soon consider tapering the U.S. central bank's bond-buying program, something that can draw money out of emerging markets and back to the U.S. The rupiah fell 1.1% last week, its largest decline since February.
Bank Indonesia has pledged to intervene to stabilize the currency if needed.
"External developments will play a bigger role in determining the direction of policy rates in the near-term, as further rate reductions risk undermining yield differentials ahead of likely buoyancy in U.S. rates in the second half of 2021," said Radhika Rao, an economist at DBS Bank Ltd.
Recent indicators paint a rosier picture of Indonesia's economic recovery. Exports have been a standout as global commodity prices rally and local manufacturers ramp up production. Foreign direct investment is at a three-year high. Consumption also looks to be turning a corner.
Investors will be keen to hear if the central bank sees recovery firmly taking root so Indonesia can exit recession this quarter. The government is targeting 7.1%-8.3% economic growth in the second quarter, the fastest pace since at least 2008.
A spike in Covid-19 cases could derail the turnaround with new movement restrictions and risks to a plan to boost tourism. The government is closely watching the case count after millions of people traveled from Jakarta to their hometowns for the end of Ramadan earlier this month.
Nomura Holdings Inc. said Indonesia could be the next Asian country to battle a major wave. However, economists at PT Bahana Sekuritas pointed to still-low hospital occupancy rates and said health infrastructure is better positioned to respond to a potential spike.