Indonesia to Ramp Up Stimulus Next Year, Minister Says
(Bloomberg) -- Follow Bloomberg on LINE messenger for all the business news and analysis you need.
Indonesia will ramp up its fiscal stimulus in the first quarter of next year to support growth amid a global slowdown, the country's economy minister said.
All ministries will be "encouraged to spend early," Coordinating Minister for the Economy Airlangga Hartarto said in an interview Tuesday in Jakarta, his first with foreign media since taking the post in October. "We will really try to push it in the beginning of the year."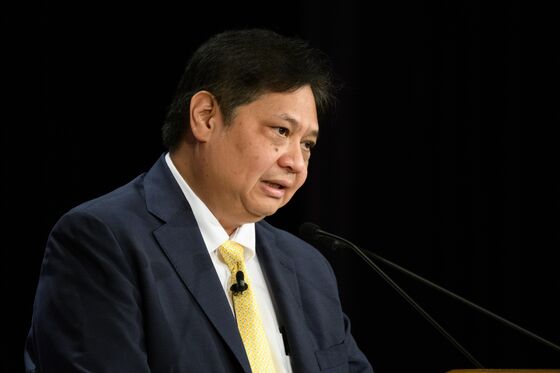 President Joko Widodo already announced plans in August to boost spending to a record 2,540.4 trillion rupiah ($181 billion) next year, but the stimulus plan reflects a greater sense of urgency to bolster Southeast Asia's largest economy. The government has been widening its budget deficit target to support growth as revenue slides, but is mandated by law to keep the shortfall under 3% of gross domestic product.
The government has revised down this year's growth forecast several times, with the economy now expected to expand 5.1% -- its slowest pace since 2017. The official forecast for next year is 5.3%, but the government has said growth could reach as high as 5.6%.
Despite the headwinds, Hartarto said the government remains "quite confident" it will meet its growth targets for next year. The key challenge remains external factors that create uncertainty, including the trade war, tensions between South Korea and Japan, civil unrest in Hong Kong, and Brexit, he said.
Domestic consumption, which accounts for more than half of GDP, provides a buffer from external pressures, Hartarto said. Investment projects currently in the pipeline also will provide a boost to growth, he said.

The central bank has been adding monetary stimulus as well, cutting its benchmark rate by 100 basis points since July. In an interview last week, Bank Indonesia Senior Deputy Governor Destry Damayanti said the impact would begin to be felt in the first quarter of 2020. Hartarto, meanwhile, said banks need to do more to pass on the cuts to customers.
With the benchmark rate at 5% but commercial banks still charging 8%-9% interest on loans, Hartarto said the transmission of monetary easing to the general economy has been too slow.
"The banks should follow. It should be lower," he said, referring to borrowing costs for businesses. "The most important thing is the transmission."
Hartarto, who heads Indonesia's second largest party, said he was confident key reforms -- including a gradual cut to the corporate tax rate and changes to labor laws -- would pass parliament early next year and help support growth.
A draft of a tax reform bill has been completed and will be submitted to the parliament before the end of the year, Hartarto said. It includes a plan to gradually lower the corporate tax level from 25% to make Indonesia's economy more competitive and encourage investment.

Another omnibus bill on job creation, which includes more flexible hiring and firing rules, is almost complete and will be submitted to the parliament in January, Hartarto said. The bill would give the president the authority to overrule regional governments on labor regulations.
Indonesia's negative investment list -- which sets limits on foreign ownership across a range of sectors -- will be overhauled, with details to be announced in January. The government will issue a regulation that formally abandons the list but divides business sectors into several groups.
Hartarto said priority industries that are export oriented will be open to foreign investment with "fiscal facilities" or incentives such as tax holidays. A "white list" will scrap joint-venture requirements for most sectors, and make certain sectors fully open.

A third group -- mostly small and medium-sized industries -- will be subject to certain conditions, including limits on foreign investment.