'The Sweet Spot Is Behind Us': Bond Rout Hits Deals Around World
(Bloomberg) -- The latest Treasury selloff is undercutting bond deals in far-flung corners of the world with Indonesia selling its smallest deal in at least five years.
Rather than paying a higher interest rate, the Asian nation chose to shrink the size of its debt offering on Tuesday, selling a fraction of its initial target. It comes a week after a canceled bond sale in Russia and a South African debt auction that saw lower demand than usual.
The highest 10-year Treasury yields in more than a year and a stronger dollar are raising all-in financing costs for new deals and spurring some borrowers to change their issuance plans.
"Eventually, governments have come to terms that financing costs are on the rise and the sweet spot is behind us," Trieu Pham, a London-based emerging markets strategist at ING Bank NV. "We will probably have to monitor the situation for another few weeks."
Indonesia's Finance Ministry sold 4.75 trillion rupiah ($328 million) of non-Islamic bonds, well below a 30 trillion rupiah target, and the smallest amount on record, according to data compiled by Bloomberg going back to 2016. The ministry, which received 33.95 trillion rupiah of bids, plans a greenshoe option on Wednesday.
"Financial market conditions, both global and domestic, are still under pressure," said Deni Ridwan, director of government securities at Indonesia's Finance Ministry. Pressure on the rupiah also "affected investor preference," he said.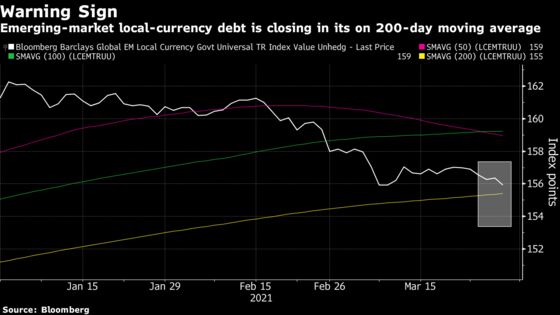 As the Biden administration accelerates the vaccine campaign and introduces a plan to rebuild U.S. infrastructure, the Treasury selloff is back with 10-year yields at pre-pandemic levels of 1.77% in Tuesday trading.
While appetite for emerging-market debt in local and offshore markets remains strong, returns are under pressure. A Bloomberg Barclays index tracking local-currency developing nation bonds lost 3.3% this year to Monday.
Meanwhile, a domestic auction in South Africa Tuesday saw yields for 2048 securities at 11.5% compared with 10.81% at the last sale of the securities on Jan. 26. The bid-to-cover ratio was lower than the 2.8 average for this year. Higher debt issuance than budgeted in the fiscal year to date also damped demand.
Still, there are good reasons to be sanguine on the sovereign outlook with Russia, South Africa and Indonesia also boasting sizable currency reserves.