Indonesia's Weak Currency a Source of Strength, World Bank Says
(Bloomberg) -- Indonesia's economy is much stronger than during the 1997 Asian financial crisis and the currency's weakness is a source of strength, the World Bank said.
"With a flexible exchange rate now, moderate devaluation makes imports more expensive, exports cheaper, and the dollar value of profit transfers lower," Rodrigo Chaves, the bank's country director for Indonesia and Timor-Leste, said in a statement on Wednesday. "These elements reduce the current-account deficit automatically."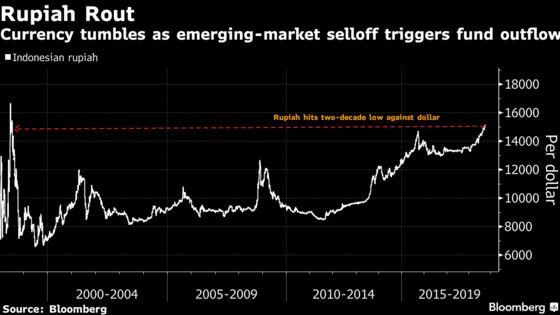 Indonesia is among the hardest hit in Asia by an emerging-market rout. The rupiah weakened past 15,000 to a dollar this week for the first time since the Asian financial crisis. The government is stepping up measures including import curbs to restrain the current-account deficit.
The rupiah swung wildly during the Asian crisis, going from a regulated rate below 3,000 versus the dollar to almost 17,000 when a flexible exchange rate was implemented.
Chaves lauded the government's policy responses this year as "quick, decisive, and coordinated." The central bank has raised interest rates despite inflation being within the target and has not defended a level for the rupiah, he said.
"While there are risks coming from overseas, let me be clear: Indonesia has strong fundamentals and an adequate policy response function," Chaves said. "The fact is clear that 2018 is not 1997 or 2013, for that matter. Indonesia is in a much stronger position today than in the past."
Chaves urged the government to boost exports and foreign direct investment and to reduce its fuel subsidies.