Indonesia's Trade Deficit Surges as Export Slump Persists
(Bloomberg) -- Follow Bloomberg on LINE messenger for all the business news and analysis you need.
Indonesia's trade deficit blew out to $1.3 billion in November as imports of consumer goods surged and exports contracted for a 13th straight month.

Exports fell 5.7% from a year ago to $14 billion compared to a 2.8% decline forecast in a Bloomberg survey of economists, as the U.S.-China trade war and a global slowdown continued to weigh on Southeast Asia's biggest economy. While imports declined 9.2%, Indonesia still purchased more goods abroad than it shipped overseas, resulting in the biggest trade deficit since April.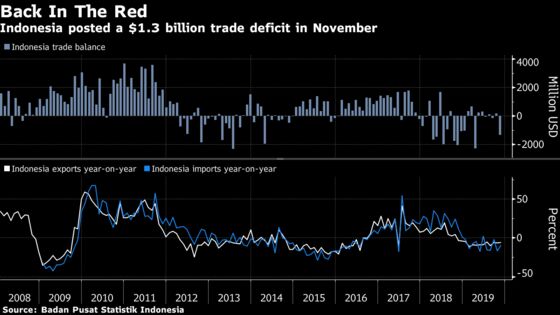 Consumer goods purchased abroad surged 16.3% to $1.7 billion in November, pushing up the value of imports. Exports of oil and gas products were down 15.8% to $1.11 billion, while mining purchases declined 19.1%
A widening trade deficit puts pressure on the current account, which in turn, can undermine the rupiah. The government adopted a slew of measures last year, including higher tariffs on some goods, in a bid to curb imports after Indonesia posted an annual trade deficit of $8.6 billion in 2018, the widest shortfall since 1975
Risks to the current account may give Bank Indonesia more reason to keep monetary policy on hold after four interest-rate cuts this year to support the economy. Most economists predict the central bank will leave the benchmark rate unchanged at 5% on Thursday
Other details of report: imports of raw materials and intermediary goods fell 13.23% to $11.17 billion and purchases of capital goods were down 3.55% to $2.5 billion
Click here for a breakdown of exports and imports by country