Indonesia's Rate Hikes Aren't Helping Its Currency or Coconuts
(Bloomberg) -- In Indonesia, a nation of about 17,000 islands, it's getting tough to even make a few bucks from a coconut these days.
Surging interest rates and a deepening currency rout have dealt a double blow to PT Niramas Utama, which makes food products from the tropical fruit. The company is finding it more expensive to import necessary inputs while the central bank's steep tightening means expansion plans may be shelved.
"We are trying to find alternative raw materials," said Adhi S Lukman, a director at Niramas Utama. "Otherwise, our profit margin will be slashed down and an increase in the prices of our products will be inevitable."
As Indonesia's central bank moves aggressively to shield the local currency from a global emerging-market selloff, businesses are increasingly rattled. The 100 basis points of hikes since mid-May have so far failed to halt the rupiah's slide and at the same time are set to jack up borrowing costs.
Policy makers have been forced to take action to stabilize the local currency against a stronger dollar, as the Federal Reserve raises interest rates faster than anticipated. The rupiah has lost almost 6 percent against the greenback this year, among Asia's worst performers, as an emerging-market exodus shows little signs of abating.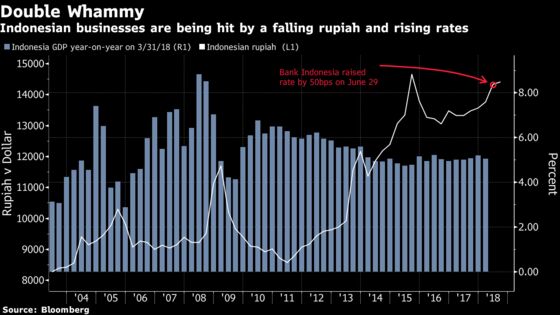 After three rate hikes in the past two months, Governor Perry Warjiyo and his board may be ready to pause. Of the 27 economists surveyed by Bloomberg, 24 predict the benchmark rate will stay unchanged at 5.25 percent on Thursday.
That's scant relief for some. Firms remain worried about how many more rate increases they may endure and the impact on economic momentum that was starting to build. Economists see one more hike by the end of this year.
"We understand that BI had to increase the interest rate following the rupiah's weakening," said Shinta Widjaja Kamdani, the deputy chairwoman of the Indonesian Employers' Association. "However, this will lead to a deceleration in the manufacturing industry and in people's spending levels -- two very important things in our national economy."
Interest rates were last at 5.25 percent two years ago, when the central bank was in the midst of a cutting spree aimed at spurring growth. That saw the benchmark rate lowered eight times, with the last move in September 2017. Yet the economy has failed to fire up and growth remains stuck around 5 percent, well short of the 7 percent targeted by President Joko Widodo.
Spending by consumers and business, which makes up almost 60 percent of gross domestic product, remains subdued by Indonesian standards with annual growth below 5 percent. Inflation is also low, with prices rising 3.1 percent in June from a year ago -- about half the average rate back in 2014 when Widodo came to power.
Industry Minister Airlangga Hartarto said rising interest rates and a falling rupiah were a "double hit" for some manufacturers. "There have to be other tools to be used for reducing the depreciation of the rupiah," he said in an interview, adding that rate hikes will also reduce Indonesia's economic growth.
Bank Indonesia's Warjiyo is adamant that stability of the currency must be the priority. He also insists that the impact of higher rates will take longer to filter through to the economy than measures the bank has taken to boost lending, such as relaxing mortgage rules.
"Bank Indonesia will keep calibrating various domestic and foreign indicators in order to optimize its future policy mix," Warjiyo said Friday. "As I've said before, we have one bitter herbal drink to stabilize exchange rate and four sweet herbal drinks to boost the economy."
For Niramas Utama's Lukman, who's also chairman of the Indonesian Food and Beverage Producers Association, the central bank's policy mix is indeed proving a bittersweet cocktail.
On one hand, "if the rupiah keeps weakening, the food and beverage industry will also see a decline," he said. However, "if the Bank Indonesia rate keeps increasing, it's harder for us to think about making further investments. So, Bank Indonesia must also take this into its consideration."