Indonesia's Mandatory Halal Labeling Leaves Firms in Disarray
(Bloomberg) -- Indonesia is all set to make halal labeling mandatory for consumer products and services from this week, but the high cost of securing the license and absence of clear guidelines mean millions of local producers are still without certificates.
The compulsory labeling will first apply to the food and beverage products and services from Oct. 17 before being gradually expanded to include drugs, cosmetics and other consumer goods, according to the nation's Halal Product Guarantee Agency. But a large number of small and medium companies are struggling to meet the rules without detailed technical guidelines, the Indonesian Food and Beverage Producers Association said.
Indonesia is seeking to position itself as one of the Shariah economic and finance centers as demand for halal products in the world's largest Muslim-majority nation surges. Companies from Nestle SA to Unilever are developing more halal products to capitalize on population growth and mushrooming middle classes in Muslim-majority countries, according to Bloomberg Intelligence.
"Almost all businesses in various sectors, whether big or small ones, have concerns on the halal product guarantee policy," said Shinta Widjaja Kamdani, the deputy chairwoman of the Indonesian Chamber of Commerce and Industry. "If it's implemented without any clear guidance, it can be abused and will be detrimental for businesses."
World's 10 Largest Muslim Populations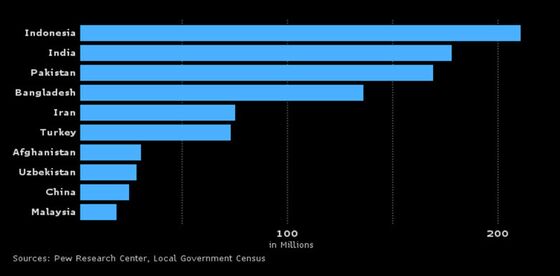 The government has yet to detail how it plans to subsidize small and medium enterprises and how it will treat products without the halal label. That's posing a challenge to even producers who have met all the criteria for halal labeling but haven't been able to secure certification, said Adhi S. Lukman, chairman of the food and beverage association.
The food and beverage industry consists of 6,000 medium to big-sized players and about 1.6 million micro, small and medium enterprises, the association estimates. That's the segment set to benefit the most from soaring demand for halal products among Asia's 1 billion Muslim population, according to Bloomberg Intelligence.
Indonesia's Shariah economy is expected to soar to $427 billion by 2022, with halal food alone accounting for more than 60%, according to central bank estimates. That's spurred PT Unilever Indonesia to secure halal certification for all its factories to make its customers "feel safe and comfortable," Director Sancoyo Antarikso said.
Read more about Indonesian halal economy:
Indonesia Draws Up Shariah Masterplan to Promote Halal Economy
This Country Wants to Be World's Halal Goods Hub as Demand Soars
Indonesia Mulls Islamic Banks Recast to Hit $141 Billion Target
For the smaller companies, the cost of securing the license can be a burden and the Halal Product Guarantee Agency has asked the Finance Ministry to subsidize micro and small businesses. They shouldn't be paying no more than 1.5 million rupiah to secure the halal certificate, compared with up to 7 million rupiah for large firms, Sukoso, head of the agency, said.
"The biggest risks will be on producers of consumer goods, particularly of products which by nature are difficult to be made halal such as vaccine. So, the pressure will be in sectors like food, cosmetics and pharmaceutical," Kamdani said.
Some sectors are better prepared than others in meeting the halal rules. Most of the cosmetic makers have secured the halal certificates, according to Cosmetics Companies Association Chairwoman Putri K. Wardani. The policy would be positive for top halal cosmetics producer Wardah, said Brand Activation Manager Shabrina Salsabila.
The Indonesian Ulema Council, currently the sole authority to issue halal certificates, expects a rush for certification after the labeling becomes mandatory on Oct. 17. With the spending on halal products set to rise, companies will not miss the opportunity because of compulsory certification, according to Bank Indonesia Deputy Governor Dody Budi Waluyo.
"Opportunities in the domestic halal market are wide open and it's a captive market," Waluyo said. "In the future, many halal products, whether those produced by big companies or SMEs, will flood the domestic market. Besides boosting the GDP, it will also help improve the trade balance by cutting imports."