Indonesia's Growth Momentum Seen Supported by Spending Boost
(Bloomberg) -- Indonesia's economy probably maintained momentum in the first quarter, helped by solid spending that was further boosted as elections were held across the country.
Gross domestic product grew 5.18 percent in the three months through March from a year earlier, according to the median estimate of 18 economists surveyed by Bloomberg. That pace is the same as the growth in the fourth quarter of last year.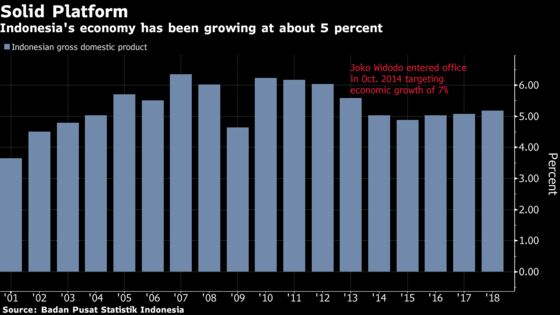 Southeast Asia's biggest economy is forecast to grow 5.3 percent this year, the fastest pace since 2013. That's still well below the 7 percent target set by President Joko Widodo when he took office in 2014
While growth has been hovering around 5 percent since 2016, there are questions over whether the economy can hit the government's projections for 2019, as Indonesia wrestles with a slump in manufacturing
There is some "bigger homework ahead for tax officials" amid signs of a potential slowdown, said Satria Sambijantoro, an economist from PT Bahana Sekuritas in Jakarta. Tax revenue from Indonesia's manufacturing sector, the largest contributor to GDP and which normally accounts for about a third of total tax revenue, fell almost 9 percent in the first quarter, he said
While six interest rate hikes since May last year restricted growth, Bank Indonesia has said its benchmark rate is now probably near its peak. The prospect that policy easing could be on the table is a boost for Widodo, known as Jokowi, as he looks to reboot his economic plans ahead of a second five-year term
With the election out of the way, investors who sat on the sidelines during a campaign that started back in September could start pumping in money. Retail sales have been strong over the first three months of the year, growing by 9 percent in February and 8 percent in March. The February growth was the fastest since December 2016
Enrico Tanuwidjaja, the head of economics and research for PT UOB Indonesia in Jakarta, said some inventory build-up and steady household consumption, as well as some election campaign spending, likely added to overall growth in the first quarter
UOB sees headline growth will remain "sluggish" for the full year, at around 5.2 percent. "The medium-term challenge is in attracting FDI into more export oriented sectors, hopefully in areas where more and more local content is used," he said
Sequentially, GDP fell 0.42 percent in the three months to March, according to the median estimate of 14 economists surveyed by Bloomberg. That's better than the 1.69 percent contraction in the three months ended December
Click here for historical data on year-on-year GDP growth