Indonesia's Cabinet Is Discussing Relaxing Fiscal Deficit Cap
(Bloomberg) -- Follow Bloomberg on LINE messenger for all the business news and analysis you need.
Indonesia's cabinet is discussing amending a legally imposed cap on the budget deficit, which would allow the government to spend and borrow more to stimulate growth in Southeast Asia's biggest economy.
President Joko Widodo is holding talks on the matter, although for now, the current annual ceiling of 3% of gross domestic product remains, Finance Minister Sri Mulyani Indrawati told Bloomberg News on Wednesday in Jakarta.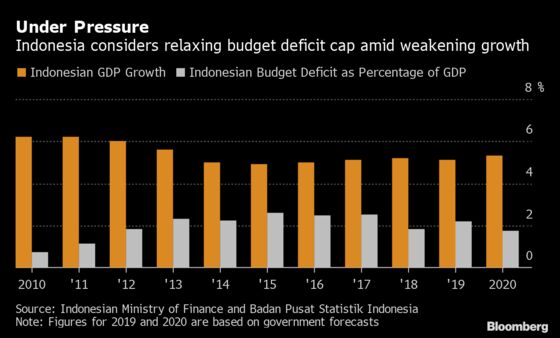 The government is required by law not to breach the deficit cap, a rule introduced in 2003 in the aftermath of the Asian financial crisis to prevent a buildup of debt. There's periodically been discussion about easing the restriction, but officials haven't had much appetite in the past to tamper with the legislation. With governments around the world now increasingly stepping up stimulus to support growth, there's scope for authorities to adopt a more flexible policy.
One option being considered by the cabinet is to change the deficit ceiling to an average of 3% over five years, enabling the budget gap to exceed 3% in any given year during that period.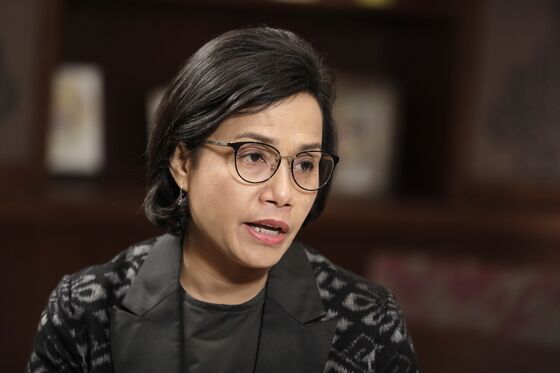 "That's one line of thinking and the president is holding discussions about that," Indrawati said on the sidelines of a World Bank event. "But for now we will continue to operate under the current legislation."
The yield on the 10-year government bond jumped 4 basis points on Wednesday following the minister' comments, prompting the central bank to intervene in the bond market. It was little changed on Thursday.
Three-month dollar-rupiah non-deliverable forwards rose for a second day on Thursday, gaining as much as 0.2% to 14,183.
A change in the fiscal rule would be one of the most significant economic policy reforms in Indonesia in almost two decades. The deficit cap acts as a curb on growth, forcing the government to cut back on spending if revenue slumps and the 3% ceiling is in danger of being breached.
The Finance Ministry later clarified to say that a change in the fiscal rule "is not a legislation priority" and the government continues to adhere to the maximum deficit and debt levels as set out in the law. Widodo "has stated that fiscal policy must be prudent and be more well-directed" to help support growth, Finance Ministry spokesman Nufransa Wira Sakti said in a text message.
This year's growth slowdown and reduced tax collection have already pushed the government to widen its deficit target to 2.2% of GDP from an initial projection of 1.84%. Officials have said they are prepared to widen the fiscal gap next year too.
It's "a very opportune time to discuss making the cap more flexible" particularly given the uncertainty in the global economy, said Enrico Tanuwidjaja, head of economics and research for PT UOB Indonesia in Jakarta. "Even so, this must be done with discipline," since exceeding 3% in one year would require a contraction in spending in subsequent years, he said.
With the central bank already cutting interest rates by 100 basis points this year, and yet economic growth still stalling at about 5%, the government is focusing more on fiscal stimulus. Airlangga Hartarto, Indonesia's new coordinating minister for the economy, said in an interview Tuesday that spending will be ramped up in the first quarter to support growth. All ministries will be "encouraged to spend early," he said.
David Sumual, chief economist of PT Bank Central Asia in Jakarta, said he is broadly supportive of relaxing the fiscal deficit cap.
"The country needs to implement a counter-cyclical fiscal policy in time of need instead of the current rigid one," he said.