Indonesia, Philippines on Wait-and-See as Taper Speeds Up: Decision Guide
(Bloomberg) -- Central banks in Indonesia and the Philippines will likely keep their benchmark interest rates at record lows Thursday, even as they keep one eye on potential volatility in the wake of the U.S. Federal Reserve's sharp hawkish shift.
Bank Indonesia and the Bangko Sentral ng Pilipinas are expected to stay on hold and put off any rate hikes well into 2022 as the emergence of the omicron variant poses a fresh threat to economic recovery in some of Asia's most hard-hit countries.
However, both monetary authorities will be watching closely for any fallout from the Fed's decision to accelerate the tapering of its bond purchases if it triggers heavy sell-offs in emerging-market assets. Indonesia has a sizable interest-rate premium over U.S. Treasurys, while elevated inflation has put the Philippines' policy rate in negative real territory.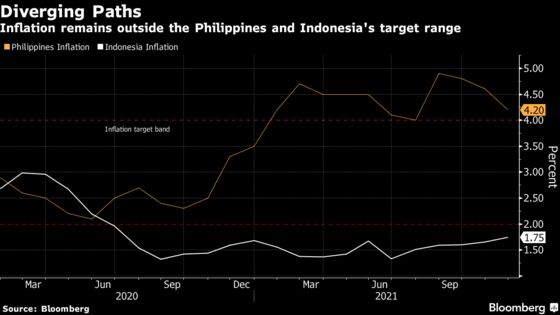 The two central banks can bide their time for now as robust external buffers reduce the urgency to move in lockstep with the Fed, according to DBS Bank Ltd. senior economist Radhika Rao. However, policy makers may soon need to take a "pro-stability" stance to shore up their currency and broader financial market gains.
"While the BSP and BI will likely leave monetary policy on hold in the near term, I expect financial and exchange-rate stability to become more important policy consideration factors over the next couple of quarters," said Tuuli McCully, head of Asia-Pacific economics at Scotiabank. Rate hikes will be in the cards by the second half of 2022, she added.
Here's what to look out for in Thursday's decisions:
BI will hold its seven-day reverse repurchase rate at 3.5% on Thursday, according to all 27 economists surveyed by Bloomberg. This should sustain support for Southeast Asia's largest economy while it assesses how the Fed taper could affect its monetary policy horizon.
Growth is expected to accelerate this quarter, but there remains a lot of ground to catch up on. Inflation has been below the central bank's target range for 18 months, reflecting weak demand. The omicron strain also poses a risk as limited vaccine coverage leaves Indonesia vulnerable to a fresh Covid-19 spike.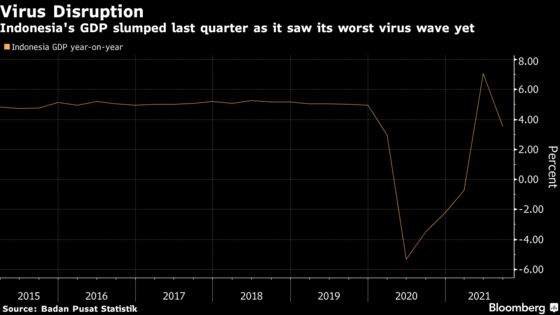 Governor Perry Warjiyo, who has pledged to keep rates low for as long as possible, said in November that monetary policy would be geared toward maintaining the stability of the financial system next year. The central bank will instead use macroprudential tools to support growth.
Investors will be closely watching BI for any signals that tightening could start sooner than anticipated. Indonesia's monetary policy remains sensitive to Fed policy, though the relationship has loosened a bit given lower foreign holdings of Indonesian government bonds recently, according to Andrew Tilton, chief economist in APAC for Goldman Sachs Group Inc. 
"We see risks of faster tightening from BI should Fed policy turn out to be more hawkish than we currently anticipate," Tilton said.
All 20 analysts surveyed by Bloomberg predict the BSP will keep its key rate at 2% on Thursday, sustaining economic support as consumer-price gains are seen returning to target next year.
The BSP will "support the growth recovery," said Jonathan Koh, an economist at Standard Chartered Plc in Singapore. Domestic inflation is expected to ease and "should allow the central bank to remain accommodative even if the monetary policy statement highlights upside inflation risks in the near term," he said.
Governor Benjamin Diokno has signaled that the bank's decision will be mainly influenced by domestic considerations, saying the Philippines won't be affected much by the Fed's normalization plans. Policy makers see inflation slowing to near the midpoint of the bank's 2%-4% goal in 2022 after averaging above the target during the year.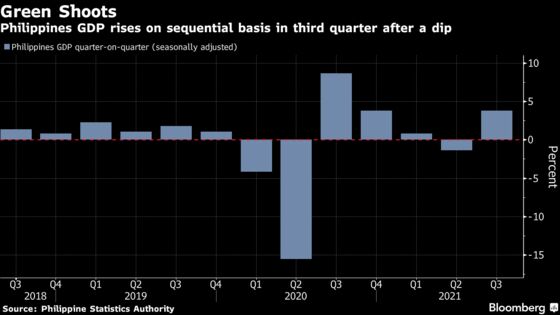 "Moderating inflation and increased uncertainty around omicron should keep the BSP comfortable staying on hold for longer," according to Barclays Bank Plc economists Shreya Sodhani and Angela Hsieh, who forecast rate hikes in the second half of 2022.
Other than the interest-rate front, analysts will be looking for any changes to other BSP tools, including its bond buying in the secondary market and lenders' reserve requirement ratio.