Jokowi Orders Strictest Curbs in Java, Bali on Deadliest Day
(Bloomberg) -- Indonesia will temporarily shut malls and place more restrictions on businesses in the economic centers of Java and Bali in the country's strictest measures yet to halt an exponential rise in coronavirus infections.
All workers in non-essential sectors must work from home, while essential sectors, such as banks, are told to operate at 50% capacity from July 3 to July 20, according to Luhut Binsar Panjaitan, who's been appointed to lead the pandemic response. Only critical sectors like health and food will be allowed to run at full capacity.
Religious, cultural and sports gatherings will be banned, while the much-anticipated reopening of Bali to international travelers this month has been postponed, he told reporters on Thursday.
Southeast Asia's largest economy has seen its virus outbreak spiral out of control after the Eid al-Fitr holidays, worsened by the arrival of the highly transmissible delta variant and a slow vaccine rollout. The country had its deadliest day with 504 dying from Covid-19 on Thursday, while new cases breached another record at 24,836. Health authorities have warned the spike could continue this month.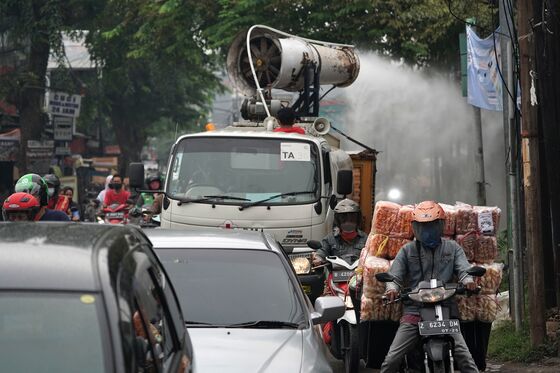 The situation is "developing very fast," President Joko Widodo said on Thursday, as he urged Indonesians to be disciplined. Army and police will help implement health protocols, while governors and mayors that fail to uphold the new movement curbs could be dismissed, said Panjaitan, who is also coordinating minister for maritime and investment affairs.
There will be no religious, sports and public activities to be held during the two-week period, while groceries and traditional markets are capped at 50% capacity. Restaurants will be limited for takeaways.
Meanwhile, the government will convert 30%-40% of its hospital bed capacity to cater to Covid-19 patients, as occupancy rates hit 74% nationwide as of end-June. The vaccination program will also be expanded, with a goal of inoculating 70% of those residing in most-affected areas, Health Minister Budi Gunadi Sadikin said.
The government's response to the Covid-19 spike has been marred by confusion, with the possibility of tighter curbs raised throughout this week but with little clarity over how strictly and broadly they should be applied. Meanwhile, hospitalization rate for Covid patients have surged past 90% in Jakarta, even after tents were set up outside of hospital buildings for emergency care and apartments being converted into isolation units.
Jokowi had previously stood by his strategy of avoiding a hard lockdown over the country, instead focusing on "micro" lockdowns in virus hotspots. The government will continue to release cash aid for lower-income households to cushion the impact of the new restrictions, Panjaitan said.