Indonesia Decision Day Guide: Rupiah Reprieve Offers Room to Breathe
(Bloomberg) -- Bank Indonesia is seen resisting the rush to a dovish policy stance amid a resurgent rupiah and will instead use the opportunity to take a cautious breather on interest rates.
Governor Perry Warjiyo and his board are expected to keep the seven-day reverse repurchase rate at 6 percent for a third straight month on Thursday, say all 33 economists surveyed by Bloomberg. That extends the pause in the tightening cycle after six rate hikes last year.
Indonesia is being aided by the currency's rebound from a two-decade low amid signals from the Federal Reserve of a more flexible policy stance that's eased pressure on emerging markets. Still, while peers including India have already started easing, the Bank Indonesia remains on guard against risks of a sharp reversal in the rupiah and the impact of U.S.-China trade ructions.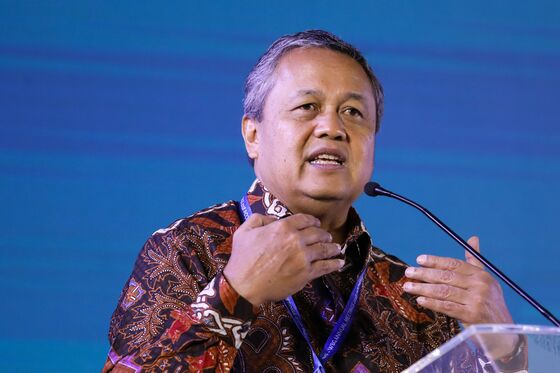 "A more dovish Fed will give BI space to pause for sure," said Euben Paracuelles, an economist at Nomura Holdings Inc. in Singapore. "But I think it's too early at this stage for BI to signal a reversal of some of its policy rate hikes last year."
Here's what to watch for in the statement:
The rupiah continues to be among the strongest performers in Asia this year, having risen more than 2 percent against the dollar. That adds to gains of 3.6 percent in the fourth quarter of 2018, when the currency made up ground lost amid an emerging-market rout.
While pressure on the currency has abated, Indonesian policy makers have signaled they're not yet ready to reverse course on their aggressive policy stance. Deputy Governor Dody Budi Waluyo said last week that the central bank remains hawkish.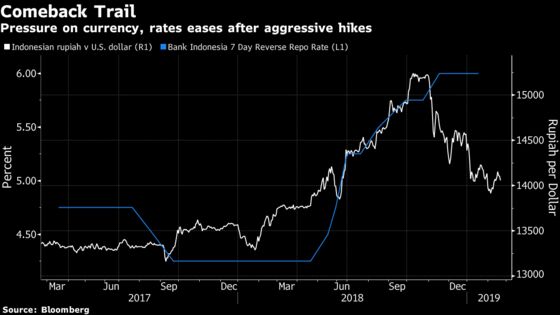 Inflation remains benign, easing in January to 2.8 percent -- its lowest level in almost two-and-a-half years and at the lower end of the central bank's target band of 2.5 percent to 4.5 percent. The result will likely ease political pressure on the central bank.
After Thursday's decision, there's just one more scheduled policy meeting before Indonesia's presidential election on April 17. President Joko Widodo, who is vying for a second five-year term, has been keen to keep a lid on cost of living pressures with the economy a key battleground in the election.
The current account deficit, which made the economy vulnerable to outflows amid last year's emerging-market sell-off, remains a key problem. Indonesia posted its biggest deficit since 2014 last year of 2.98 percent of gross domestic product, amid subdued export demand.
Bank Indonesia sees the current account deficit easing to 2.5 percent of GDP in 2019, and the economy growing 5 percent to 5.4 percent this year.
What Our Economists Say…
"The rupiah is set to lose two shackles that have held it down -- Indonesia's wide current-account deficit and political uncertainty -- allowing it to further recoup ground against currencies of trading partners. This would mean the central bank could avoid further rate hikes -- and even unwind some of its recent tightening before year-end if external risks to trade subside."

-- Tamara Henderson, Bloomberg Economics