Indonesia Decision Guide: Is This the End of Rate-Hike Cycle?
(Bloomberg) -- Indonesia's central bank, one of Asia's biggest interest-rate hikers last year, is widely expected to leave policy unchanged on Thursday, with analysts paring back calls for further increases in 2019.
All 26 economists surveyed by Bloomberg predict Governor Perry Warjiyo and his board will keep the seven-day reverse repurchase rate at 6 percent for a second month, after hiking six times by a total of 175 basis points since May.
Bank Indonesia is getting a breather from a more cautious U.S. Federal Reserve, the currency's rebound from a two-decade low, and a slowdown in the global economy. Warjiyo himself signaled policy makers are close to the end of the tightening cycle, telling lawmakers on Wednesday that the benchmark rate had almost reached its peak.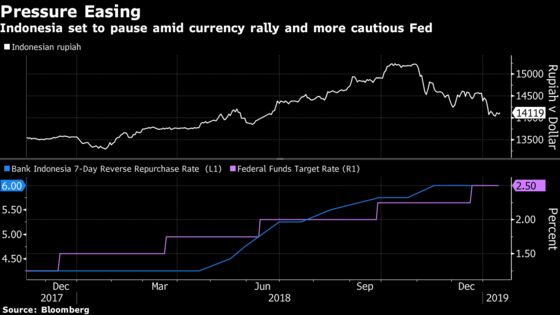 Mohamed Faiz Nagutha, an economist at Bank of America Merrill Lynch in Singapore, said it "almost certainly" seems as though it's the end of Indonesia's tightening cycle. He no longer sees Bank Indonesia hiking rates this year, and said it could start easing in the second half of 2019.
"We are not penciling in rate cuts yet and await further signals from policy makers on the policy objectives going forward," he said.
After being hit by an emerging-market rout last year, the rupiah has gained about 3 percent against the dollar in the past month, while investors have pumped almost $600 million into government bonds since the start of January.
Here's what to watch for in the statement:
The central bank took an aggressive stance last year on rate hikes to help stabilize the rupiah after it dropped almost 6 percent against the dollar to reach its lowest level in 20 years. With the currency on a firmer footing in 2019 -- due in part to the market scaling back bets of Fed tightening and the BI's proactive stance -- policy makers can afford to ease up on hikes.
Key to the rupiah's outlook is the Fed. Since taking office in May, Warjiyo has vowed to be pre-emptive on rates as he sought to keep pace with the Fed and counter the emerging-market sell-off. With U.S. central bank officials indicating they're now less inclined to keep raising rates given mounting global risks, Indonesian policy makers can also take more of a wait-and-see approach.
"Much has changed since December 2018 with markets now thinking the Fed has turned over a new leaf to show that they'll be more dovish in 2019," said Nicholas Mapa, an economist at ING Bank NV in Manila.
The inflation outlook remains benign for now: consumer prices rose 3.1 percent in December from a year ago, well within the central bank's target band of 2.5 to 4.5 percent.
Still, the current account deficit which exacerbated last year's outflows remains a key concern. While the central bank sees the gap easing to 2.5 percent of gross domestic product in 2019, after probably reaching 3 percent last year, data Tuesday showing Indonesia posted a record trade deficit in 2018 underscores the challenge that's facing policy makers.
An upcoming presidential election also looms as a complicating factor. President Joko Widodo is keen to spur economic growth and keep a lid on cost-of-living pressures. The economy's expansion of about 5 percent is still short of the 7 percent target Widodo set when he came to office in 2014.
At its last policy rate meeting in December, Bank Indonesia said the domestic economy was forecast to expand 5 percent to 5.4 percent this year.
What Our Economists Say...
"The central bank in December appeared more inclined to lean on direct intervention in the currency market to address any seasonal year-end volatility, rather than tighten further. In a Goldilocks scenario where the U.S. and China work out a resolution to their trade war, Bank Indonesia may start to unwind some of its rate hikes before year-end."

-- Tamara Henderson, Bloomberg Economics