In Russia, World-Beating Trading Day Is About to Get Longer
(Bloomberg) -- The Moscow Exchange, which already boasts one of the longest trading days in the world, will soon let clients trade stocks until just before midnight as it seeks to cash in on a boom in retail investors.
The Russian bourse is extending its equities session by nearly five hours in the evening, bucking a European trend toward shorter days. Professional bodies in Europe have proposed reducing market hours, an idea widely backed by traders.
"It may attract retail investors who can't trade in the day, but it will dilute liquidity," and also create extra work for traders and support services, said Alexander Orekhov, the Moscow-based head of Russian equities trading at Renaissance Capital.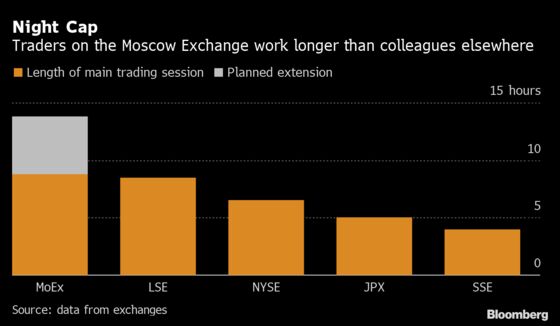 Starting June 22, the trading day in Moscow will stretch from 10 a.m. to 11:50 p.m., more than twice the length of sessions in the U.S. The longer hours will allow traders to "protect their investments in Russian assets when there are sharp moves on global markets," the exchange said in a statement announcing the move.
Individuals opened 60% more brokerage accounts on the Moscow Exchange from January to April than in the same period last year. They make up almost half of trading volume, according to Boris Blokhin, the bourse's stock department director.
"Market liquidity in the evening will clearly be low, and there is a higher risk of manipulation," Sova Capital head of trading Yaroslav Vishnyakov said, adding that the Moscow Exchange and market makers will be the main beneficiaries from longer hours.
Blokhin did not answer a question on whether the move increases the risk of manipulation.