In Just Hours, America's Family Businesses Hurtled Into Limbo
(Bloomberg) -- Kimberly Anderson has owned a women's clothing store in Philadelphia for 15 years. She had less than four hours to shut it down.
"I've never experienced anything like this," Anderson said as she rushed to shutter Kimberly Boutique by 5 p.m. on Monday, meeting a city-imposed deadline for non-essential retailers.
Few small businesses in the U.S. -- if any -- have. The patchwork of state and local government measures being taken in the coronavirus pandemic is hitting them and their employees hard.
Stores like Kimberly Boutique had already been slammed as shoppers began staying home in droves, even before President Donald Trump declared a national emergency on March 13.
Half of small businesses in the country have enough cash to survive for a few weeks, according to one study.
Unlike in some European countries, where central governments have imposed drastic shutdowns but also approved fat rescue packages, the U.S. Congress has yet to pass a stimulus measure. The Trump administration is considering a plan that would include $300 billion for small-business loans, according to people familiar with the matter. Another option proposed by Treasury Secretary Steven Mnuchin on Tuesday: hand out $1,000 or more in cash to every person in the U.S. within two weeks.
The mandated closures continue anyway. San Francisco issued an unprecedented shelter-in-place order. Similar measures are under consideration including in New York City as the country progressively goes dark.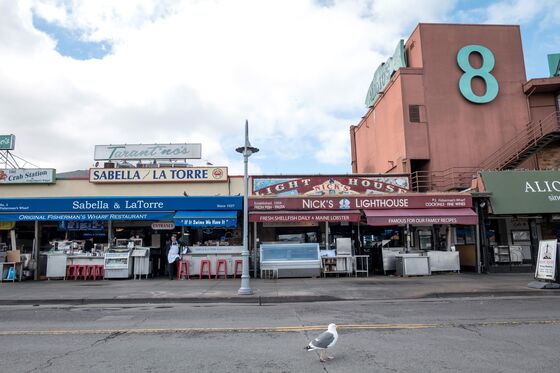 Before the three-week shelter-in-place order in San Francisco, Susan Choi had been trying to prepare her eight employees for the worst. Business had been tough for Hayward-based Celebration Party Equipment Rentals, which she co-founded with her mother in 1998.
Choi had to tell the staff -- two salaried, six hourly -- that she couldn't continue to pay them. She has been helping them file for unemployment insurance while wondering how to keep her business alive with no customers.
"The best-case scenario for two weeks or three weeks. We could just about manage," she said. "We would be pulling funds from here and there."
Last week, Trump said the Small Business Administration would begin providing low-interest loans in affected states, "effective immediately," and asked Congress to increase funding for the program by $50 billion.
Still, Choi says the government isn't doing enough to protect smaller companies like hers.
Choi said she contacted the SBA on Monday for financial support but was told she did not qualify because, at that time, Alameda County was not eligible. It was listed as eligible on the SBA's website on Tuesday.
The SBA didn't comment on Choi's case.
While large companies like Apple Inc. and Macy's Inc. have closed stores nationwide, they can likely survive without sales for weeks on end.
But smaller businesses with tighter cash flows are more fragile during a temporary shutdown, putting millions of jobs at risk. More than 30 million businesses with payrolls of 500 or less employ 59.9 million, or 47% of the total workforce in the U.S., according to the latest data from the SBA.
Fort Point Beer Company has closed the three bars and restaurant locations it owns in the Bay Area and laid off 70 of its 200 workers to focus on areas where it can still make money.
Its main brewery in the city is still operational but it's warned remaining staff that further cuts are likely. Revenue from distributing to other bars and restaurants is down 90% as orders have dried up, but sales to grocery and corner stores are actually up almost 50%.
"Our plan is to ramp down to what the grocery store demand will be, but be flexible to ramp back up if the shelter-in-place is lifted," Fort Point founder Justin Catalana said in an interview.
For Kyle Stewart, who runs a batting-cages business near the Golden Gate Bridge in San Francisco, the city's shelter-in-place order couldn't come at a worse time.
"In March, we usually make 60% of our annual profit," said Stewart, who owns the business with two partners. "There's money to be lost -- but ultimately everyone has something to lose here."