In Avalanche of Shutdowns, Meatpacker Shares Are Doing Just Fine
(Bloomberg) -- The wave of U.S. meat-plant shutdowns in the past two weeks is barely noticeable in the share-price performance of their owners. In fact, JBS SA and Tyson Foods Inc. are up.
That's because what they're losing in volume, they're making up for in profitability. Morgan Stanley analysts say that probably won't be changing anytime soon for beef at least, recommending investors take an overweight position in JBS.
The following charts help explain why.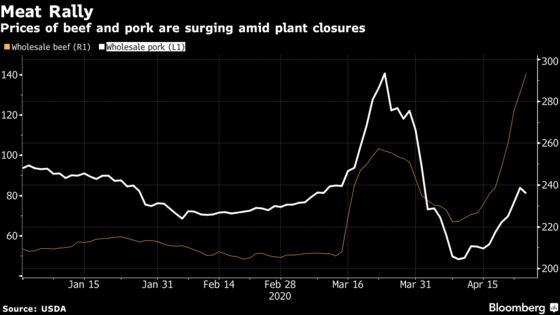 The unprecedented slaughtering disruptions -- as workers fall ill to Covid-19 -- are tightening supply of fresh meat and raising the possibility of shortages for consumers.
As a result, U.S. wholesale beef prices have surged to a record. Pork prices have also rallied.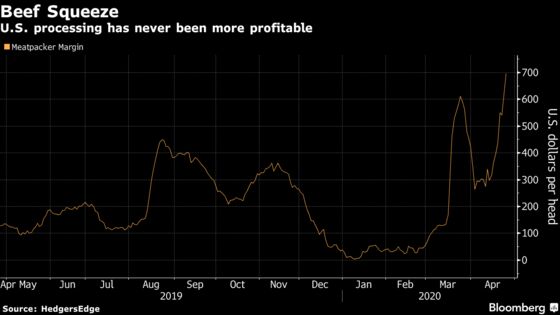 The opposite is true upstream. Plant shutdowns are exacerbating livestock gluts, with farmers struggling to find buyers and early reports of pig culling. Hog and cattle futures have slumped this month.
So with surging fresh-meat prices and cheaper animals, meatpacker margins have swelled to all-time highs.
Still, not everyone is bullish, with Tyson cut to market perform at Bernstein amid expectations that third-quarter production capacity will be hurt by closures and worker absenteeism.