In 15 U.S. States, Share of Workers Hit All-Time Lows Last Year
(Bloomberg) -- In fifteen U.S. states, the share of the population that's working fell to the lowest levels on record last year as the pandemic shut down swaths of the economy, according to new data from the Bureau of Labor Statistics.
West Virginia and Mississippi had the country's lowest employment-to-population ratios, at 50.3% and 50.6% respectively, according to the BLS. California, the most populous state, was among those to record an all-time low as its ratio plunged to 54.4%.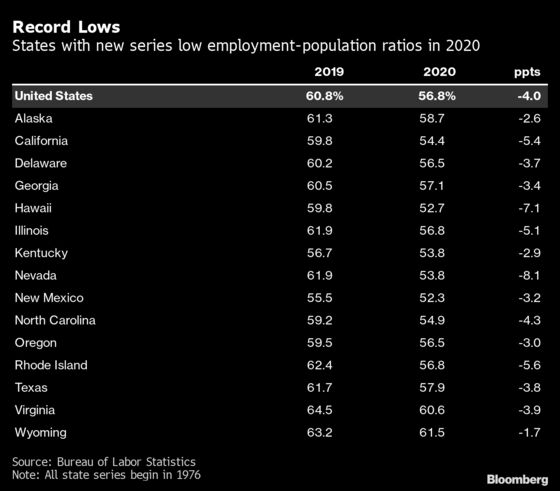 In all 50 states plus the District of Columbia, the share of the population in employment was lower than in 2019. The biggest declines came in Nevada and Hawaii, where the collapse in tourism decimated key industries. The smallest ones, between 1.5 and 1.7 percentage points, were in Nebraska, South Dakota and Wyoming.
Many economists say that employment-to-population ratios offer a better measure of how the economy is faring than unemployment rates -- because the latter can decline when people drop out of the workforce, as well as when they find jobs.