Impossible Foods Cuts 'Beef' Price By 15% for Its Distributors
(Bloomberg) -- Impossible Foods Inc., maker of the eponymous soy-based burger served in restaurants nationwide, has cut prices by 15% for food service distributors in the U.S., attributing the move to efficiencies and scale.
"We are finally in a place where all existing customers can buy product in the quantity they want," said Impossible spokesperson Rachel Konrad, showing the company's struggles to keep up with demand have eased.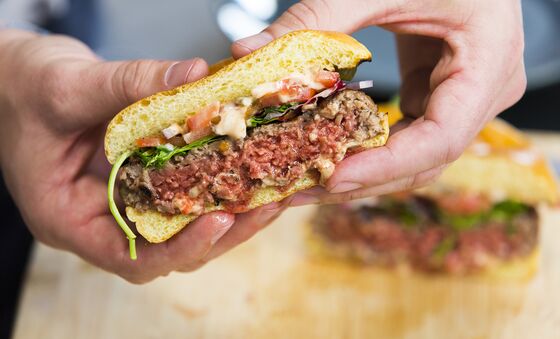 Impossible will add several more beef-like formats to its product lineup, according to Konrad. Customers will be able to buy "bricks" of ground faux meat, as well as several kinds of quarter-pound patties and third-pound patties. To help in the expansion, the company signed a deal with global food producer OSI Group in July after a prolonged shortage.
Even after the price cut, a pound of Impossible ground "beef" is still significantly more expensive than the real thing. The lowest price available to distributors is now $7.90 per pound, and only available to the few customers that buy directly from Impossible in very large quantities, Konrad said. Compare that with 81% ground beef, which last week sold for $1.79 per pound wholesale.
The imitation beef product, best known in burger form but also served in everything from Ramen soup to pizza toppings, is now served in more than 17,000 restaurants in the U.S. and abroad, including more than 7,000 Burger King locations. In the past the company has been challenged with keeping up with demand. As the national Burger King rollout was underway, more than 30% of the restaurants listed on its website were not carrying it, a Bloomberg survey found.
Impossible's main competitor, Beyond Meat Inc., has also long discussed wanting to bring down its prices to better compete with real beef. Beyond Burgers currently sell for $11.98 per pound and $5.99 for a package of two four-ounce patties. In an earnings call last week, chief executive Ethan Brown said he hopes to reach price parity by 2024.