IMF Sees Upside in Delaying Argentina Deal After October
(Bloomberg) -- Officials at the International Monetary Fund see some benefit in delaying a $45 billion agreement with Argentina after the nation's midterm election in October, with talks yielding little progress six months after they began, according to people familiar with the situation.
While IMF negotiators prefer to hash out a deal with Argentina as soon as possible, some see a silver lining in the government's procrastination. Argentina could take more ownership and make bigger policy commitments once the pressure of a key legislative vote is off, three people familiar with the talks said, declining to be named because discussions are private.
The IMF's top priority is for Argentina to design a deal that it can honor and that returns it to growth, and the Fund knows it can't force the nation's hand, the people said.
A spokesperson for the Washington organization said its staff continues to engage constructively with the Argentine authorities on a possible program. The country's Economy Ministry declined to comment.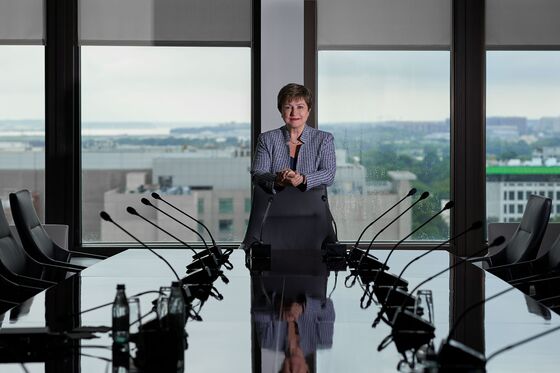 Argentina began in September talks with IMF officials for a revamped program to reschedule payments on $45 billion that the nation owes the lender from a previous record deal. Government leaders have initially aimed to close it by May, a timeline that an IMF official recently called ambitious. IMF Managing Director Kristalina Georgieva hinted at the tension last month, saying that the IMF is engaged, but "it takes two to tango."
Officials in Buenos Aires have been taming expectations on an agreement, with President Alberto Fernandez recently saying he doesn't want to rush talks. He has yet to send a detailed economic plan to the IMF or even top leaders within his coalition -- a key step to move the negotiation forward -- according to two other people familiar with the situation, who also asked not to be named.
Fernandez, who leads a broad Peronist coalition that includes the more radical left-wing group of Vice President Cristina Fernandez de Kirchner, is facing a narrowing political path as the Oct. 24 vote approaches. Announcing an agreement with the Fund, which is likely to include fiscal austerity pledges, may hurt the ruling coalition's standing in a country where the IMF is usually blamed for its recurrent economic crisis.
While delaying an agreement also involves risks, the government may be emboldened to follow that path after a string of lucky breaks, including higher soybean prices and potentially fresh IMF funding, according to two of the people consulted. Argentina is considering using new Fund reserve assets, known as special drawing rights, to pay a $1.9 billion principal maturity due to the lender in September if it can't reach a deal by then, Bloomberg News reported last month.
Yet these tailwinds don't disarm the economic minefield Argentina faces. The country is just emerging from three years of recession, inflation is projected to hit nearly 50% this year and unemployment is in the double digits. The government's $65 billion debt restructuring with private creditors last year didn't boost its credibility, and the bonds are now in junk territory again. The country has no access to foreign credit, forcing it to print money.
In that context, the IMF's more positive view of negotiating after the vote comes with caveats. Some officials worry that the economy will be in worse shape by year end without a credible policy road map soon. It's also unclear if Fernandez will have more political consensus to negotiate once the election is behind.
Now seeking its 22nd IMF program since 1956, Argentina's fraught history with the lender includes its 2001 financial crisis, when painful budget cuts urged by the Fund failed to avert an economic collapse and debt default. The record agreement in 2018, which failed to lift the economy, also translated into more austerity that led Argentines to vote out a pro-business government and elect Fernandez.
Economy Minister Martin Guzman is expected to travel to Washington later this month to resume in-person negotiations with the IMF.